A year ago, it was pretty clear that at some point Los Angeles Dodgers manager Don Mattingly would come to his senses and reward awesome right-handed power pitcher Kenley Jansen with the closer role. After all, we had already seen what Brandon League could do, and while it didn't mean he wasn't capable of saving 30 games, Jansen by every account owned the superior arm and skills. Then again, not all teams bestow the ninth-inning duties on the best pitcher. Still, League saved 14 games with his 5.30 ERA. There were fantasy owners who enjoyed/loathed it.
There isn't an obvious situation like that looming today -- Colorado is close -- but still, since it's an annual rite that at least a third and perhaps more closer jobs will change at some point during the season, it seems practical to point out those deserving arms that await an opportunity. These are not necessarily the best setup men in the game. In fact, in many cases they aren't. David Robertson, now closing for the New York Yankees, patiently waited his turn while Mariano Rivera, now retired, amazed us all. Part of having opportunity for our purposes is the likelihood of it being realized. Kansas City Royals right-hander Luke Hochevar was terrific in 2013, and there's little doubt he can repeat, but Greg Holland is entrenched as the saves guy. On these other 10 teams, however, that might not be the case …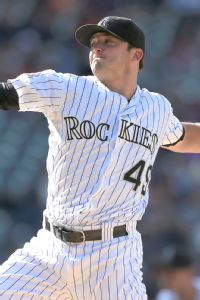 Doug Pensinger/Getty Images
Rex Brothers quietly racked up 19 saves for the Rockies in 2013.
Rex Brothers, Colorado Rockies: Rumor has it that grizzled right-hander LaTroy Hawkins is the team's top choice to close, but that could and should change at some point. Hawkins was effective in 2013, but Brothers, a lefty who has fanned 11.2 batters per nine innings in his career, is better, and he thrived in the role last season. We say draft skills over opportunity, and it's reasonable to draft Brothers over Hawkins today. Likelihood of 15-plus saves: 80 percent.
Cody Allen, Cleveland Indians: After mercifully ridding themselves of erratic (on the field and off it) Chris Perez, the Tribe somehow thought bringing in John Axford was a good idea. Axford does throw hard and does have that "closer experience" going for him, and yeah, he could save 30 games. He saved 35 games in 2012, albeit with a 1.44 WHIP. Allen is simply better. He has never closed before, but that shouldn't matter. He misses bats and can do so in any inning. Likelihood of 15-plus saves: 70 percent.
Mark Melancon, Pittsburgh Pirates: One of the top relief pitchers regardless of role last season, Melancon became the ninth-inning option only when Jason Grilli was out because of a forearm strain. Grilli, 37, is back and supposedly healthy and ready to close again, but there are no guarantees here. Likelihood of 15-plus saves: 50 percent.
Danny Farquhar, Seattle Mariners: Many have been critical of the organization signing Fernando Rodney to a two-year deal, and for good reason. Farquhar is considerably younger and struck out 79 hitters in 55 2/3 innings in 2013, a rate nearly on par with the great Craig Kimbrel. The Mariners are acting like contenders and needed relief depth, so they got it. Farquhar is better than Rodney, though, and often that's enough to exact a change in roles. Likelihood of 15-plus saves: 50 percent.