Detroit Tigers center fielder Austin Jackson had been struggling at the plate for a few weeks, probably because of the sore left hamstring that eventually landed him on the 15-day disabled list Monday afternoon. Of course, that was a few hours too late for most weekly league owners to make a move by the time their rosters locked, but we're all at the mercy of the teams making decisions. Jackson scored a few runs Friday night, played the entire game Saturday, sat Sunday and figured to remain active because manager Jim Leyland called his day off precautionary, but now he'll miss a few more Mondays getting healthy.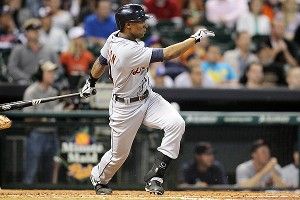 Brett Davis/USA TODAY Sports
Austin Jackson was hitting .272 with five stolen bases when he landed on the disabled list.
Jackson got off to a fine start to the season but had regressed to his occasional old ways of late, striking out at a high rate, eschewing the plate discipline that had helped him hit .300 last season, and he has not stolen a base since April 21. His normally elevated BABIP was a more normal .336, far below his career mark of .367. The Tigers deserve credit for making the safe choice to sit him down, which good teams can afford to do in mid-May. Fantasy owners should be embracing this if it helps Jackson play better the final four months, because he hadn't been contributing much the past couple weeks anyway.
The Tigers didn't skip a beat Monday night -- although they were playing the Houston Astros -- with Andy Dirks assuming leadoff duties and Don Kelly handling center field. Dirks launched a grand slam off Bud Norris among his three hits, and should continue his reasonable platoon with Matt Tuiasosopo, the latter crushing lefties. As Dirks said postgame, he has hit leadoff before, "It's really nothing different. The way I approach it, I just try to get on base for the big guys." Some might express concern that Miguel Cabrera and Prince Fielder will see their prodigious RBI totals rise at a slower pace with Jackson inactive, but I'm not going there. It's only two or three weeks and Dirks is capable of getting on base, so don't go trading those first-round picks away based on this news.
Dirks and Tuiasosopo might be a bit more attractive for daily league owners now, but Dirks already had a reasonable shot at double digits in home runs and steals. His playing time doesn't really change, just his lineup slot short term. What remains to be seen is what the Tigers do in center field, where Jackson is an elite defender. Dirks does have experience there. Kelly, not much of a hitter, can handle things. Right fielder Torii Hunter used to be a center fielder, but perhaps the most intriguing name to watch the next few weeks is that of prospect Avisail Garcia, who did not play Monday, but according to the team could start in center field Tuesday.
Garcia was called up Monday from Triple-A Toledo, where he was hitting a cool .432 in eight games with a home run and four RBIs. Of course, while Garcia is only 22, roughly a third of his big league experience has come in the postseason. He is far from a mature product at the plate. He had struck out 10 times in his 37 at-bats for the Mud Hens, drawing one walk, and that's an extension of his previous minor league work. Garcia brings an enticing blend of power and speed, but there's no guarantee he gets to play, and if he does whether he'll hit enough. Yes, he hit .319 in 47 regular-season at-bats with Detroit last season, but his BABIP was .405, he didn't register an extra-base hit, was caught stealing on both attempts and of course, didn't show much plate discipline, walking three times against 10 whiffs.
In other words, fantasy owners don't need to run to the waiver wire in 10- or 12-team standard formats for Garcia, Dirks or other unowned Tigers outfielders. Keep an eye on Garcia the next few days, hoping to capitalize on pitchers not knowing his tendencies, and the skills could result in enticing fantasy numbers, but this is likely a short-term situation. We'll see if Garcia can become more of a factor for dynasty league owners in 2014.
Another reason to avoid Dirks and Garcia is there's significant depth at this fantasy position. Just look at the outfielders available in more than 50 percent of leagues that are certainly worth a look the rest of May: Jon Jay, Domonic Brown, Michael Brantley, Ben Revere, Colby Rasmus, Nate Schierholtz, Dayan Viciedo, Justin Ruggiano, Chris Carter, A.J. Pollock, Will Venable and David Murphy. A few of them are better options for steals (Revere, Brantley, Venable) and others specialize in power (Rasmus, Viciedo, Carter). Looking at these names, it is clear outfield is deep. Ruggiano, for example, is on pace for 30 home runs, 21 stolen bases and 77 runs scored, yet is available in 80 percent of leagues. He won't hurt your batting average that much in two weeks. Murphy is a fine buy-low option, and Viciedo recently came off the DL himself, and after hitting 25 home runs a year ago, he's capable of a repeat. The Tigers can live without Jackson for a few weeks, and clearly so can fantasy owners.