Tampa Bay Rays left-hander David Price left his Wednesday outing prematurely with a triceps injury. Of course it stinks, and of course we're all concerned about how much time he's going to miss, but then again, now a little adventure can commence, too. It happened with the Philadelphia Phillies a few weeks ago when the Roy Halladay implosions were backed up by obvious injury. Oh, who will replace him? What if it's the next Clayton Kershaw! I'd better sign Adam Morgan now! Fantasy owners just love this stuff. Sure, Price was a top-10 starting pitcher on draft day, the defending AL Cy Young Award winner and we all love him … but step aside because we want to see what Chris Archer or Jake Odorizzi can do!
I'm only being partly facetious, you know. As of Thursday morning, the update on Price, who was pummeled while he was out there against the Boston Red Sox and saw his ERA rise back over 5.00 again, was that he suffered a strained left triceps. The pessimist in all of us immediately thinks Tommy John surgery is pending and we won't see Price again until June 2014, but it really could be just a missed start or two, perhaps a short disabled list stint. It should go without saying, but don't cut Price today in any leagues. If he's visiting Dr. James Andrews tomorrow, however, well, all moves are fair game. Honestly though, I was buying low on Price a week ago, and I'm still doing so. Injury often explains poor performance, so if Price doesn't start again until mid-June, you definitely buy in. And this is not Halladay.
But hey, what about Archer and Odorizzi and the other outstanding young fireballing hurlers on the Triple-A Durham staff? The Phillies promoted right-hander Jonathan Pettibone recently, and he's no star, but he is 3-0 with a 3.41 ERA, and that's better than a lot of No. 6 fantasy starters. What the Durham Bulls are using is better than that: potential aces in Archer, right-hander Alex Colome and lefty Alex Torres, and Odorizzi tossed seven no-hit innings at Pawtucket a few outings ago. The first thing I look for when a pitcher is unlikely to make his next start is who started for the Triple-A club that same night of injury/premature exit. Organizations are all about keeping the pitchers on schedule and want to avoid disrupting routine. Odorizzi twirled in Rochester on Wednesday night, but it went poorly, as he permitted six runs, including three home runs, over 5 1/3 innings.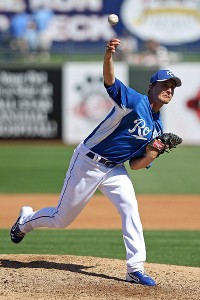 Christian Petersen/Getty Images
Jake Odorizzi checked in at No. 68 in Keith Law's Top 100 prospects rankings prior to the 2013 season.
Odorizzi, the second-best prospect in the James Shields-Wil Myers haul after making two starts for the Kansas City Royals in 2012, seems like a future No. 3 or 4 big league starter. But the other pitchers interest me just as much, if not more. Archer isn't having a great season at Triple-A -- he has allowed more hits than innings, and his WHIP is 1.50 -- but he fanned 36 in 29 1/3 innings for the Rays last season, so he seems about ready. Meanwhile, Colome has fanned 21 hitters in his past two Bulls outings, over 12 2/3 innings. Walks remain a problem for him, as they were for his uncle Jesus Colome, a former Devil Rays reliever, but Colome has major upside. Torres boasts the top ERA, WHIP and K/9 of these starters, but his last outing was a rough one. What will the wise Rays do?
As with closing, opportunity plays a huge role. We often see teams promote a seemingly lesser pitcher either because of scheduling or because he's on the 40-man roster or whatever, but keep an eye on who the Rays give next Monday's start in Toronto to, because we just don't know if it's short-term or not, whether it's a pending star like Tony Cingrani or someone like Phil Hughes, who has his moments but certainly hasn't had many this season. My vote goes to Odorizzi, despite what happened Wednesday. I wouldn't add him, or any of the young Rays pitchers that have helped the Bulls staff to an astounding 391 strikeouts in 351 2/3 innings, in a 10- or 12-team league just yet, but don't be afraid to take a risk on a bench spot, either. Trust the Rays. They made Fernando Rodney great, and James Loney leads the bigs in hitting. They must know what they're doing.
Box score bits (NL): Los Angeles Dodgers right-hander Zack Greinke permitted just one run in his return from the DL over 5 1/3 solid innings, striking out four. Greinke threw 83 pitches and even knocked in a run with a single. I had him active in my leagues, and he's a two-start guy next week. Go get him. … To make room for Greinke on the roster, right-hander Josh Beckett was placed on the DL with a swollen ERA. OK, the official term the team used was a groin injury. Beckett hasn't been good this season and really doesn't deserve to be owned in 10- or 12-team leagues, but in fairness, his xFIP is a reasonable 3.86 and he's accruing strikeouts. He's not expected to be out long. … Arizona Diamondbacks third baseman Eric Chavez knocked in three runs Wednesday and raised his batting average to .310. Chavez was pretty good in 2012, too, so as long as he's used properly (i.e. not against lefty pitchers), he's an attractive deep-league option. … Diamondbacks right-hander Ian Kennedy needed 100 pitches to get through five innings against the Atlanta Braves, and he allowed three runs and too many baserunners, but he also earned his first win since Opening Day. I'm cautiously buying low, but expected something more like his 2012 numbers, not 2011. … New York Mets right-hander Shaun Marcum wasn't bad Wednesday, allowing three runs (two earned) in a season-best 6 2/3 innings, but it's hard to see any upside here. Pass.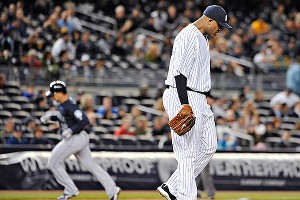 AP Photo/Kathy Kmonicek
Raul Ibanez (background) took CC Sabathia deep Tuesday, then homered twice Wednesday.
Box score bits (AL): Seattle Mariners outfielder/designated hitter Raul Ibanez smacked a pair of home runs and knocked in six at Yankee Stadium on Wednesday. A year ago, Ibanez hit 14 of his 19 home runs in the Bronx. If only teams traded for Ibanez before starting series there! Ibanez isn't as valuable as he was in 2012, but he's capable of reaching 19 home runs again. … Detroit Tigers outfielder Avisail Garcia launched a three-run home run out of the No. 9 lineup spot Wednesday. The power is real, but so is the strikeout potential. Still, he should play often. With Austin Jackson on the DL, Omar Infante inherited the leadoff role against terrible lefty Dallas Keuchel. Look for Andy Dirks to be in that role against right-handed pitching. … Chicago White Sox batting average-drain Adam Dunn launched a pair of no-doubt home runs Wednesday, knocking in five runs, but that .156 batting average is just too much to overcome. B.J. Upton can raise his .145 batting average 100 points. Does anyone think Dunn can realistically do this? … More White Sox: Infielder Jeff Keppinger had two hits and two RBIs Wednesday. It's not a misprint that his OBP is lower than his batting average, with each well below .200. Keppinger still hasn't drawn a walk in 2013. He was a 22nd-rounder in ESPN drafts, but isn't too popular anymore. Hmm, wonder why? … Each time I watch Oakland Athletics right-hander Dan Straily get lit up, I wonder what the fuss is about. On Wednesday he was awful, allowing four hits, five runs (four earned) and four walks in 4 1/3 innings. If only his ERA was in the 4s; it's 7.27. The strikeout potential isn't worth this.