The last time Los Angeles Angels right-hander Ryan Madson threw a pitch in a big league regular season game was the last Wednesday of September 2011, in the eighth inning against the Atlanta Braves. Madson retired Chipper Jones, Dan Uggla and Freddie Freeman without incident, and on 14 pitches. Since then Madson has been paid by the Cincinnati Reds and Angels, but he hasn't logged an inning for either squad. It's going to be a bit longer before he does.
Madson claims he's ready for action this weekend as he continues to recover from Tommy John surgery performed more than a year ago, but instead he's been sent to Triple-A Salt Lake City to begin a rehab assignment originally announced as scheduled for several weeks. It's tough to tell how long Madson will be there, but his fastball velocity is reportedly down around 91-92 mph, and the Angels want to be thorough. Remember, back in February, the Angels were talking about Madson being ready for the start of the season. That did not happen.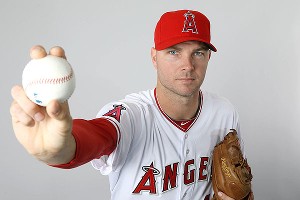 Mark J. Rebilas/USA TODAY Sports
Ryan Madson saved 32 games for the Phillies in 2011 but hasn't pitched in the majors since.
The question for fantasy owners is how soon Madson usurps the closer role from right-hander Ernesto Frieri, if at all. I have to admit, while I have believed all along that a healthy, thriving Madson would take the job and run with it, the Angels might not be in agreement. Frieri continues to battle occasional control issues, but he also boasts a 1.56 ERA and 25 strikeouts in 17 1/3 innings. Opponents are hitting .136 off him and left-handed batters are a miserable 1-for-31 off him, the lone hit being an A.J. Pierzynski game-winning home run. Frieri has been very good, so while fantasy owners continue to ask about Madson, I'm not sure it matters. Yes, he has more closing experience, but he also has more setup experience.
Madson is owned in 52.5 percent of ESPN standard leagues, so he's relatively popular for a guy who hasn't thrown a pitch in a game for a really long time. He's not a bad stash, after all. Manager Mike Scioscia could call his name to close in June. Or he might never call it. I'm guessing Madson will save games this season, but from June 1 on, I'm betting Frieri saves more. Anyway, here are 10 pitchers owned in fewer than 50 percent of leagues that I think will save games from this point on this season, in order of current ownership.
Jose Veras, Houston Astros: Well, this is cheating. He is closing, but somehow available in more than half of ESPN leagues. Yes, the Astros are bad, but Veras has more saves than anyone on the New York Mets or Detroit Tigers. He can save 25.
Kyuji Fujikawa, Chicago Cubs: Kevin Gregg still hasn't permitted an earned run. That probably means he'll allow 12 in June. Fujikawa is likely next in line over Carlos Marmol.
David Hernandez, Arizona Diamondbacks: Hey, good for Heath Bell. Nice success story. For left-handed hitters, that is. Just a matter of time before the better pitcher gets chances, though I will point out that those cutting J.J. Putz will also likely miss out on saves since he's not expected to be out long-term.
Trevor Rosenthal, St. Louis Cardinals: Kudos to Edward Mujica, but he's throwing all split-finger fastballs and regular fastballs. I just think the (much) harder-throwing Rosenthal is better, and the Cardinals have made closer changes in recent seasons that didn't appear needed to be made based on performance (see Fernando Salas, 2011). Wouldn't shock me if Carlos Martinez starts 2014 closing here, with Rosenthal in the rotation.
Jared Burton, Minnesota Twins: I like Glen Perkins, and his numbers are terrific, but so are Burton's. Either would make for decent real-life trade bait, frankly.
Steve Delabar, Toronto Blue Jays: I would have had Sergio Santos on this list, but he had elbow surgery this week. Casey Janssen has been awesome, but still being handled carefully coming off shoulder surgery. No AL relief pitcher has more strikeouts than Delabar.