The past two seasons, Washington Nationals middle infielder Danny Espinosa had been an attractive fantasy option, totaling 38 home runs and 37 stolen bases. Sure, he never was particularly helpful in the batting average category, but Espinosa played in 158 and 160 games in 2011 and 2012, respectively, and it was more than reasonable to target him in the mid- to later rounds this season. Espinosa finished the 2012 season 21st among middle infielders on the Player Rater and was drafted, on average, in the 14th round of ESPN live drafts.
However, with seven weeks of the season complete, it seems many owners have seen enough. Espinosa is down to 40 percent owned, as his batting average slumps to .163.
It's probably not a coincidence that his batting average is down so much as he attempts to play through a torn rotator cuff in his left shoulder. He originally hurt the shoulder in September and struggled the final weeks of 2012. Well, little has changed. While Espinosa sat Monday night in San Francisco for ordinary Stephen Lombardozzi, the Nationals were shut out for the sixth time this season and certainly want their switch-hitting starter and defensive asset to improve.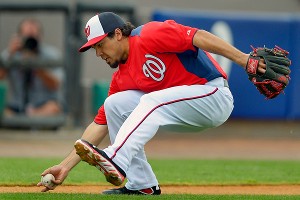 John McDonnell/The Washington Post
Drafted as a third baseman, Anthony Rendon has been playing second base at Double-A.
At some point, the underachieving Nationals, carrying a .227 team batting average and the third-worst scoring offense in baseball, could look for another solution. That could be the enticing Anthony Rendon, the sixth pick of the 2011 draft who has been logging at-bats as the Double-A Harrisburg second baseman. On Monday night, Rendon, hitting third in the lineup, smacked an RBI double to center field in the third inning at Erie, and the 1-for-4 performance actually lowered his batting average to .346 and dropped his OPS to 1.136. He has 27 walks, 22 strikeouts and 19 extra-base hits in 30 games. Rendon got 25 at-bats with Washington last month when third baseman Ryan Zimmerman was on the disabled list, and he hit .240 with one extra-base hit and five walks versus seven strikeouts. That small sample size doesn't tell us much, just like his current numbers for the Senators aren't particularly meaningful.
The point is that many judge Rendon's bat and offensive potential as big league-ready, with 20-homer pop and modest batting-average expectations. While it's reasonable to have reservations about him handling second base on a regular basis, the Nationals might be desperate for help. We can assume Espinosa wants to avoid surgery on his ailing shoulder, and though he hasn't used the shoulder as an excuse for his poor play, clearly something is amiss. It's not only the .163 batting average, pushed down by a recent stretch with one hit in 28 at-bats, including 13 strikeouts.
For the season, Espinosa has whiffed 38 times, a rate that is down a tad from his National League-leading total of 189 K's a year ago. But he has a mere three walks, so it's obvious pitchers can challenge Espinosa knowing his aggressive ways are a major handicap. That walk percentage is hard to believe. Chris Iannetta walked four times in one game over the weekend. Three walks in seven weeks? Yikes. Espinosa also boasts by far the worst line drive rate in baseball (barely 10 percent), and he's seeing a ton of fastballs, which again leads us to believe his shoulder is an issue.
The Nationals did get right fielder Bryce Harper back in the lineup Monday after he missed a few games with a sore knee, but left fielder Jayson Werth (hamstring) will not be ready to return from the DL this week and the team has received little production from Tyler Moore, Roger Bernadina and Lombardozzi in his spot. While first baseman Adam LaRoche has predictably rebounded in May, hitting .339 with four home runs, shortstop Ian Desmond has slumped, hitting .203.
The Nationals definitely hit last year, finishing 10th in the majors in runs scored, and Harper is even better. I'm buying low on most of the team's hitters, from LaRoche to Desmond to eventually Werth, and Rendon is a wise stash in deeper formats. It seems likely he'll get a chance soon if Espinosa doesn't turn things around, and frankly, there's little reason to expect a banged-up Espinosa to do that.