Welcome back, Cameron Maybin! Perhaps many of you weren't aware that the San Diego Padres outfielder hadn't played since mid-April with a wrist injury because he had been hitting only .091 after 10 games, but it's true. He returned to the Padres lineup Thursday night and made quite an impression, getting a few hits, drawing a walk, knocking in two runs and showing aggressive tendencies by stealing two bases and being caught on another while hitting in the No. 7 spot.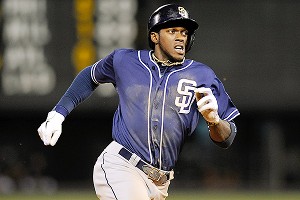 AP Photo/Chris Schneider
Cameron Maybin had 66 stolen bases in his first two seasons with the Padres, but hit just .253.
Maybin's fantasy value tends to elicit various degrees of opinion. While he has never really been the coveted player he was expected to be when he made his big league debut for the Detroit Tigers at the ripe age of 20, and then being the big return in the noteworthy Miguel Cabrera trade from the Marlins, he's certainly brought value with his speed, as well as the lure of upside. Some of his value has been offset by low batting averages, and it's fair at this point to assume he'll never be enough of a contact hitter or power option -- especially playing home games at Petco Park -- to be a star. But now that his wrist is healthy -- and we can presume it wasn't the first two weeks when he had only three hits in 33 at-bats -- he does warrant attention.