For years, San Diego Padres right-hander Luke Gregerson has been discussed as one of the many top setup men on the verge of becoming a closer. Now that the opportunity has mercifully arrived, he deserves attention in all leagues. What, Huston Street got hurt? That never happens! Sarcasm aside, with closers, it's generally about opportunity first and skills second, and Gregerson does have that flashy sub-1.00 ERA. It's just not going to stay there.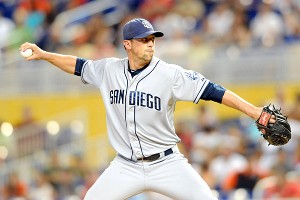 Steve Mitchell/USA TODAY Sports
Luke Gregerson has been a top-notch setup man for the Padres for years.
It's generally wise to add new closers to your team whether you covet the saves or not, because these guys tend to make terrific trade bait. Put Gregerson near the top of that sell-high list. For one, Street will return from his sore calf -- it's always something with him -- probably sometime later this month, and there's little question about the relief hierarchy. Street certainly isn't having a good season by any definition other than the saves -- which tell us nothing -- but he's their guy, at least until the next injury or the team falls apart and trades him. Check back in late July for both scenarios, but they didn't move him last year, so don't expect they will in 2013.