Two San Francisco Giants outfielders were 13th-round picks, on average, in ESPN standard drafts for this season, which surprised me a bit. One was Hunter Pence, who I thought was seriously underrated on draft day. He made my top 100, and while I didn't expect the onslaught of stolen bases -- he's 13-for-13! -- Pence had enough of a track record that I was willing to trust him for modest power and safe batting average. It has worked out. For Angel Pagan, I wasn't as much of a fan, but given his potential to record 30 steals and score 90 runs, the 13th round seemed about right.
On Thursday night, while Pence was going hitless in a dreary 2-1 loss to the Miami Marlins, dropping his still-excellent batting average to .287, Pagan was rehabbing his injured hamstring for high Class A San Jose, with the goal of returning to the Giants perhaps as soon as this weekend. Well, I'm no doctor, but after Pagan reinjured the hamstring while running out a grounder in the ninth inning, and needed to be carted off the field, I'm assuming this weekend -- or perhaps any 2013 weekend -- is out of the question. There has been discussion that Pagan will need surgery to fix the problem. Regardless, as tough as it might be based on draft-day value and expectations, pending news this weekend could result in most Pagan owners moving on, so be prepared.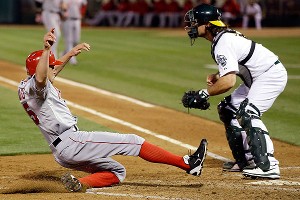 AP Photo/Marcio Jose Sanchez
Speedy Peter Bourjos, a potential long-term replacement for Angel Pagan, is owned in just 9.6 percent of ESPN standard leagues.