The Los Angeles Dodgers' crowded outfield problem was solved Monday, but not in a good way; Matt Kemp was placed on the disabled list because of a sore left shoulder. Fantasy owners are probably cursing Kemp for this setback, but honestly, the way he had played this season, now you don't have to debate whether to play him over any number of available options. A few weeks off is a good thing in this case, so embrace this roster move. Sure, Kemp hit a few home runs at Coors Field last week to raise hopes that he was back, but he wasn't. Now we don't know precisely when he'll be back, but this was already looking like a lost season, and even if he returns later in July, I'm going to be skeptical he'll hit for average and power.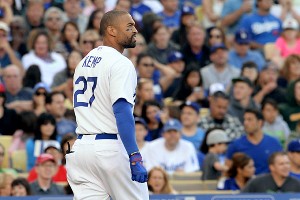 Kamin-Oncea/USA TODAY Sports
Matt Kemp has hit just .231 at home this season, with no homers in 117 at-bats.
As such, even though we're barely halfway through the season, it's certainly reasonable to label Kemp as fantasy's biggest bust. After all, the other nine players that were first-round choices in ESPN average live drafts are all worth relying on; even the disappointing Albert Pujols is on pace for 24 home runs and 94 RBIs. Justin Verlander isn't exactly hurting his fantasy owners. Kemp, though, is hitting .254 and is on pace for seven home runs, 45 RBIs and 17 stolen bases, and he was the sixth overall pick. Among the 149 hitters you'll find ranked ahead of him on the ESPN Player Rater are, incredibly, Vernon Wells, Jose Iglesias and John Buck.