The Atlanta Braves head into the All-Star break with easily the largest division lead of any team in the game, up six games on the erratic Washington Nationals, but with serious issues offensively. Sunday's outfield starters were Jose Constanza, Reed Johnson and Joey Terdoslavich, with Jason Heyward and the Upton brothers injured. Evan Gattis came off the disabled list to play first base, with All-Star Freddie Freeman nursing a swollen left thumb. Brian McCann can't play every day, Dan Uggla and his .200 batting average does and . . . well, this is a .500 team since starting the season 12-1.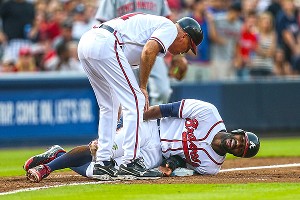 Daniel Shirey/USA TODAY Sports
Jason Heyward has been a disappointment this year and was the first of the Braves outfielders to go down with injuries this past weekend.