Fantasy owners tend to be all about the statistics, but they must realize that numbers often tell a misleading story. For example, last year Billy Hamilton and Delino DeShields Jr. combined to steal a ridiculous 256 bases in the minors (155 by Hamilton), but so far in 2013, they have swiped a mere 81. I know, how awful. I spoke to both these players on Sunday at New York's Citi Field as part of the Futures Game activities, and these speedsters told similar tales explaining the adjustment pertaining to overall development. It's not so much that their organizations have derailed their running game, but rather have preached that one doesn't have to steal a base at every opportunity. This is certainly relevant information for fantasy owners; these guys are not slower, so don't dare view their 2013 performances as disappointing. Sometimes it depends on the manager or the organization's game plan.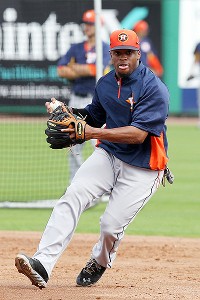 Cliff Welch/Icon SMI
Delino DeShields Jr. was selected in the first round (eighth overall pick) in the 2010 draft.
"Stealing bases just hasn't been my main focus this year; there were other parts of my game that I needed to work on," said DeShields, who is hitting .290 and has drawn 42 walks for High-A Lancaster in the Astros' chain. "I'm trying to become more consistent, a better player later on in my career. I'm driving the ball to all fields.
"I've proved to everybody I could run. They don't want me running like crazy, getting myself thrown out when the team doesn't need it. Right now, I'm in my development phase in the minor leagues and learning when I can and can't run."