There's perhaps no All-Star who has been more of a surprise this season than Pittsburgh Pirates lefty Jeff Locke. After all, he's not a particularly hard thrower and wasn't raved about as a prospect, and yet he has won eight of 10 decisions so far, with a cool 2.15 ERA that ranks second to only Los Angeles Dodgers ace Clayton Kershaw among all qualified hurlers. Jeff Locke? Really? Well, I admit I've been skeptical of him continuing his success, so when I saw him being relatively ignored at Monday's All-Star media day -- at least compared to David Wright, Bryce Harper, Chris Davis, guys like that -- I had to ask him about his success. His comments were certainly revealing.
"No, I'm not surprised, but I know that everybody else is, so that's what is fun for me," the enthusiastic, well-spoken Locke told me. "I don't throw 100 [mph], and I don't have 100 strikeouts yet [he has 73], and I have a lot of walks. But you know what? I don't have a lot of runs, and that's what's important to me.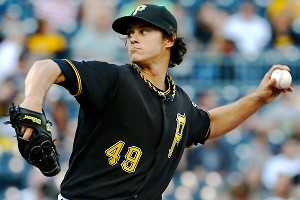 AP Photo/Keith Srakocic
Jeff Locke ranks 24th among all pitchers on the ESPN Player Rater for 2013.
"I played minor league baseball with Justin Wilson, a bullpen guy we have. I always had command in the minor leagues and he had the stuff, but he walked lot of guys. We were opposites. He threw real hard and didn't know where it was going, and I just didn't walk anybody. We always said if I could just have your stuff and you could have my command. But he always told me nobody is touching home plate. I might walk people and might give up my hits, but they're not touching that white thing."