Oh, how things can change in only eight weeks.
The last time the ESPN fantasy crew supplied its rest-of-season rankings in mid-May, Atlanta Braves outfielder Justin Upton was a consensus top-10 choice, Baltimore Orioles slugger Chris Davis wasn't even close, and Yasiel Puig wasn't on any radar screen. Now things are a lot different in the mid-July rankings. It's noteworthy how far some of the most previously trusted hitters fell, such as Upton, Los Angeles Dodgers outfielder Matt Kemp, Chicago Cubs shortstop Starlin Castro and San Diego Padres third baseman Chase Headley.
With the All-Star break in the rearview mirror, fantasy owners are generally past the point of asking when it's time to re-analyze options and potentially give up on players. We're way past that time. Upton's rise and subsequent fall have been documented, Kemp's problem has and continues to be health, and Castro's issue is perhaps indifference, but in the case of Headley, we have several relevant factors to consider for him and others with similar factors. He blasted onto the scene after years of relative obscurity as one of fantasy's most influential hitters the second half of 2012, hitting an incomprehensible 23 home runs, but he's hitting all of .229 today with one home run over the past month. Some fantasy owners want to invest based on 2012; others want to simply move on based on 2013. What's the right move?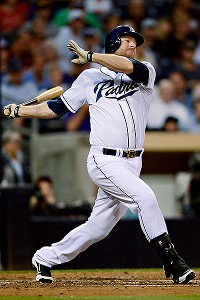 Andy Hayt/Getty Images
Chase Headley had a huge second half last year, but after struggling so far this season, it's hard to think he'll repeat his late surge.
Knowing when to give up on a player reaching his proven potential is a tricky proposition. People aren't mass-dropping Headley (though he is only 89.9 percent owned), but I doubt many are viewing him as the eighth-round pick he was in ESPN live drafts before the season. In mid-May, he was ranked 50th overall in these rankings, which seems ridiculous compared to his No. 141 slot today. I see no reason to exalt Headley to close to top-100 status today, but the truth is all players are different. With Josh Hamilton, for example, a recent hot streak probably kept him in the top 100 overall. For Headley, perhaps the broken thumb that interrupted the start to his season remains a problem, but he's showing no signs of a 23-homer second half. I ranked him 179th overall. I'd still own him in 10- and 12-team formats, but I'm not optimistic he will suddenly turn things around. Many players perform through pain, and while it's nice they can help their teams, especially in relation to what else that team might use, fantasy owners often can upgrade. I hope Headley starts hitting for power and batting average, but I expect this looks more like a lost season.
Here are other hitters (I'll tackle the pitchers Thursday) of varying value that ended up in our top 100 overall but saw major changes in their ranking over two months, both good and bad.
• Paul Goldschmidt, 1B, Arizona Diamondbacks (from 24th to 5th): Seems like he usurped Justin Upton's top-10 spot for many. The power is legitimate, and he runs enough to matter.
• Chris Davis, 1B/OF, Baltimore Orioles (from 68th to 8th): I believe he'll lead the majors with 54 home runs and still hit .290 overall. Incredible season.
• Ryan Braun, OF, Milwaukee Brewers (from 2nd to 20th): I thought I was too low dropping him to 12th. Seems like my colleagues were even less confident. Thumb injury or suspension? I'm not terribly worried about either.
• Hanley Ramirez, SS/3B, Los Angeles Dodgers (from 167th to 27th): I ranked him in the third round in March, and while he's a bit too hot recently, it's 30/30 talent. Yes, take him over Puig.
• Jean Segura, SS, Brewers (from 87th to 33rd): Clearly people didn't believe back in May. Now they do. I suspect we've all overrated him a bit based on his underwhelming June, but at least he'll keep running.
Dale Zanine/USA TODAY Sports
After a huge April, Justin Upton has cooled off tremendously. So which Upton shows up in the second half?
• Justin Upton, OF, Atlanta Braves (from 7th to 35th): It's all about the timing, and for him, he hit 12 home runs in April and four since. If it's reversed, he'd be coveted. Rumors of a hand injury from April seem relevant, and now his calf hurts. Sell if you still can, though I ranked him 44th, so I still like him.
• Jose Reyes, SS, Toronto Blue Jays (from 154th to 39th): Wasn't healthy in May, now he is. It drastically changes an outlook when a fellow is actually active. He also looks terrific and is flashing power.
• Yasiel Puig, OF, Dodgers (from not ranked to 41st): That's a fair spot for a relatively unproven guy who will see batting average regression. I ranked him 50th, so I clearly like him.
• Michael Cuddyer, 1B/OF, Colorado Rockies (from 127th to 45th): Veteran guy who hasn't hit more than 20 home runs in five of past six seasons, so it was reasonable to be skeptical. Not anymore, though the .274 career hitter is not going to hit .330 all year. We all probably overranked him.
• Albert Pujols, 1B, Los Angeles Angels (from 25th to 46th): I ranked him the worst at No. 66 but feel good about it. Honestly, not even close to the same guy he was, and when the Angels are sub-.500 to start September, I doubt the hobbled Pujols plays regularly the entire month, if much at all.
• David Ortiz, DH, Boston Red Sox (from 80th to 47th): I'd take him over Pujols the rest of the way, without hesitation. I had Ortiz 41st. Probably not good enough!
• Starling Marte, OF, Pittsburgh Pirates (from 104th to 59th): Frankly, the rise is not enough. I have him 34th. Some batting average regression coming, but he's legit.
Rich Schultz/Getty Images
Domonic Brown has made a huge rise since the mid-May rankings thanks to his power surge. Can he keep that up?
• Domonic Brown, OF, Philadelphia Phillies (from 262nd to 69th): An awesome May and still usable since. But is he really this good? Will he keep running?
• Matt Kemp, OF, Dodgers (from 18th to 70th): I'm skeptical he hits for much power when he returns from the disabled list. Lost season, bounce-back option in 2014.
• Matt Carpenter, everything, St. Louis Cardinals (from 214th to 76th): Nice to see my colleagues come around. I was the only one to rank Carpenter in the top 200 in May. He's going to score 110 runs!
• Josh Donaldson, 3B, Oakland Athletics (from 209th to 87th): He's legit, my No. 57 player, and I'm not sure why others are concerned about him.
• Starlin Castro, SS, Chicago Cubs (from 34th to 100th): Even I had to presume this is not the same player we believed in, but it's premature to trust a Nick Franklin-type over him.
Others: Michael Bourn left our top 100 because he's not running enough. … Jason Heyward left because he's not healthy enough, and not running. … Kyle Seager is close to breaking into our top 100. I should have ranked him better, in retrospect. … Welcome back to the top 120, Eric Hosmer! … Goodbye from the top 100, Elvis Andrus. What a disaster of an offensive season. … Three of us had Pedro Alvarez at precisely No. 100. Interesting. Power was always legitimate, though. … I'm the only one with Aramis Ramirez in the top 100. He's worth it. … Now that Nate McLouth isn't running much, most of us overrated him. … One of us had Pablo Sandoval in the top 100; another did not rank him at all. I had him 105. Find another player with that disparity. … I just did: Carl Crawford. I'll take Sandoval. … Good to see my trust in Jonathan Lucroy paid off. We all liked him. … Major difference in opinion on Curtis Granderson, with me at No. 90 and two unranked decisions. I don't get that. … Welcome to the ranks, speedy Leonys Martin! One colleague had him 37th, another unranked. I was conservative at No. 168. … I'm clearly enamored with Raul Ibanez as compared to others. … I did not rank Michael Morse, Omar Infante or Paul Konerko. The Morse one could be a mistake.