It didn't take my Twitter followers long to realize that I had ranked pitchers in the ESPN Fantasy midseason rankings a bit lower than my colleagues. Yes, that's by design. My list of those making their living throwing the baseball started with Los Angeles Dodgers ace Clayton Kershaw at No. 16 and continued throughout the top 50, but with only 10 of those fellows serving as pitchers. There's incredible pitching depth this season, so the likes of Detroit Tigers right-hander Max Scherzer shouldn't take it personally that I ranked them lower than most of my ESPN colleagues.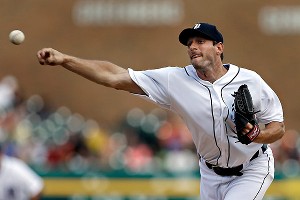 AP Photo/Paul Sancya
Max Scherzer is ranked third among all pitchers on the ESPN Player Rater.
Then again, with some of these pitchers, I just might not be as big a believer. For example, when it comes to Scherzer, I'm only partially buying into his amazing first half. I don't care about his fancy win-loss record, because he could just as easily have James Shields' 4-6 mark. By the way, Scherzer and Shields, far apart on our Player Rater because of the wins difference, are ranked 26th and 27th, respectively, in ERA among qualified starting pitchers this season. One of them just happens to be second in baseball in run support. I like Scherzer and I think he's legit, but I also believe his fantasy value is inflated right now. And I'm always willing to move a pitcher for a top offensive player.