Things haven't been going so well for the Miami Marlins lately, a fact underscored by the team literally not scoring a run in Milwaukee this past weekend, but perhaps all it takes is a few top prospects to change fortunes. On Tuesday, the Marlins not only scored, but won their second consecutive game at Coors Field, and did so after promoting outfielders Christian Yelich and Jake Marisnick from Double-A Jacksonville.
Yelich, the sweet-swinging lefty who was on display at the Futures Game at Citi Field recently, had three singles and a pair of RBIs out of the No. 2 lineup slot. Marisnick, a right-handed hitting center fielder secured in the seemingly lopsided offseason trade with the Toronto Blue Jays, went hitless in four at-bats from the No. 6 spot. The third starting outfielder, by the way, is someone you've probably never heard of. Get used to Giancarlo Stanton hitting plenty more home runs the rest of 2013 and in future years. It really is an impressive outfield, and we can finally say goodbye to the likes of Juan Pierre and Justin Ruggiano having value, though it'd be nice if they were on other teams supplying some.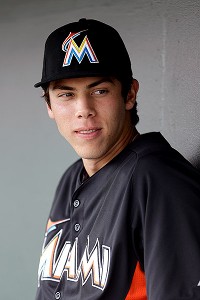 AP Photo/Jeff Roberson
Christian Yelich was the 23rd overall pick in the 2010 MLB draft.
As noted in this Tuesday video, Yelich is the better prospect, but he has had a challenging season dealing with injuries, and Marisnick might offer more initial fantasy value because he has run more. I can't make a great case for either in 10- or 12-team formats this season, but if you're in a dynasty league, act now.