Welcome to the final few days of July. On Wednesday, the last day of the month, there likely will be trades that affect both real baseball and the fantasy version. Some of the players moved will be big names, some will be minor leaguers, and in some cases the statistics we rely so much on will be vastly affected. However, in general, it's the bad teams sending expensive big league talent of various performance levels packing, while the good teams move the unproven kids for that talent. Then there are the Texas Rangers.
A report surfaced over the weekend that the Rangers are at least considering trading closer Joe Nathan in an effort to acquire more offensive help. This makes sense: Nathan is right there among fantasy's top closers on the Player Rater with Craig Kimbrel and Edward Mujica, but he's 38 and would be the most accomplished relief trade chip on the market (and that includes overpaid Philadelphia Phillies closer Jonathan Papelbon). Plus, the Rangers have fill-in options. Frankly, it's the rare occasion when real baseball mirrors fantasy; it's as if one team has extra saves to trade to fill other needs, and it makes sense now to act.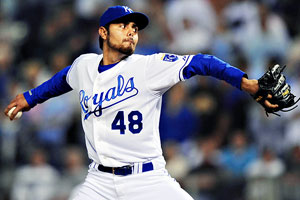 Peter G. Aiken/US Presswire
Joakim Soria posted two 40-plus-save seasons for the Royals before joining the Rangers.