Los Angeles Angels fans and fantasy owners won't have much-maligned first baseman Albert Pujols to kick around anymore, and perhaps that's a good thing. After all, Pujols has been hurt pretty much the entire 2013 season, which might have ended this weekend with his placement on the disabled list because of a partially torn plantar fascia in his left foot. He might have to have surgery, which would keep him from the spotlight until spring 2014.
You know how I'll be viewing future Hall of Famer Pujols in 2014? As a third-round fantasy draft pick, at the least, and perhaps the second round. In fact, I think he'll be a bargain in most leagues.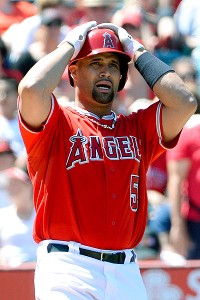 Richard Mackson/USA TODAY Sports
Albert Pujols' 2013 production might not be what his owners expected, but he's still on pace for 27 homers and 101 RBIs.
Despite dealing with the painful left foot for four months, Pujols still delivered 17 home runs and 68 RBIs in just less than two-thirds of a season. He's not a top-10 first baseman on ESPN's Player Rater, but he's not far off. His fantasy owners might be angry that Pujols didn't produce first-round value -- and I feel your pain in multiple leagues -- but if you're in a keeper league, buy now and buy confidently. This guy still has a lot of production left in him, and while some might debate what condition his bat and body will be in when his trillion-dollar contract nears its end, we're not yet to that point. Pujols will be excellent next year, and a true value because he'll go nowhere near the first round.