Toronto Blue Jays outfielder Rajai Davis runs really fast, and he likes to show it pretty much every chance he gets. Davis isn't a terrific baseball player overall, but the guy can flat-out steal bases. Even with his intermittent playing time, nobody has more than Davis' seven stolen bases in the past 15 days, and for the season, Jacoby Ellsbury and Everth Cabrera are the only players with more than his 31 steals. So why -- and it's certainly not the first time I've asked this in this forum -- is Davis still available in more than half of ESPN's standard leagues, especially now that left field is wide open for him with Melky Cabrera, an annoying fantasy option, I must say, heading back to the disabled list for knee woes?
I suspect Davis is about to become one of the most added players in ESPN leagues, as he continues to run wild. Stolen bases and saves are the categories that often see the most upheaval after the fantasy trade deadline, because guys like Davis remain unowned. I spoke to Davis back in March and asked him about his expectations and goals for the season, and it was pretty clear he wanted two things: to help the team win, which of course he has to say, and to steal as many bases as possible, which he doesn't. Blue Jays fans like the first answer; fantasy owners love the second. Don't look for power or batting average or fielding proficiency or really anything else but steals. I think Davis could very well end up leading the big leagues in the category. He nearly did last season, too, and was readily available much of the year as well.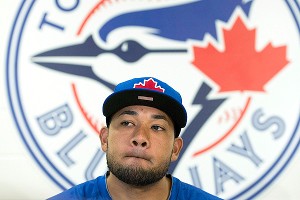 AP Photo/Nathan Denette
Fantasywise, Rajai Davis has been pretty much a nonfactor this season.