Ryan Ludwick was the Opening Day left fielder and cleanup hitter for the Cincinnati Reds this season, which is easy to forget since entering Monday that was literally the only major league game the veteran slugger had played in this season. Ludwick tore cartilage in his right shoulder sliding into third base in that first game and missed more than four months. But he returned Monday at Wrigley Field, going hitless in three at-bats out of the No. 6 lineup spot.
Ludwick might seem to be irrelevant for fantasy purposes, but don't be so dismissive; the guy hit 26 home runs and knocked in 80, with a usable .275 batting average, in only 125 games a year ago for the Reds, and the lure of him returning to the cleanup spot soon remains. In fact, one would think a lineup adjustment is coming, considering manager Dusty Baker hasn't gotten much production out of the team's No. 2 spot. Baker likes to split valuable lefty hitters Shin-Soo Choo, Joey Votto and Jay Bruce in the 1-3-5 slots, with third baseman Todd Frazier the latest to man the No. 2 spot. It's not a good fit.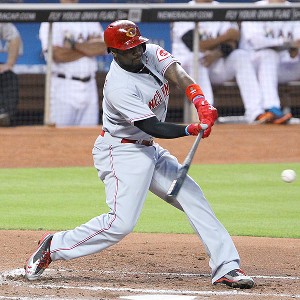 David Santiago/El Nuevo Herald/MCT/Getty Images
Reds cleanup hitter Brandon Phillips is on pace for 21 homers and 122 RBIs.