Big league rosters expand in less than two weeks, and fantasy owners will see more interesting prospects get the call. The St. Louis Cardinals decided they didn't want to wait that long for second baseman Kolten Wong, summoning him from Triple-A Memphis before the weekend. Wong didn't do much in his two starts at Wrigley Field against the Chicago Cubs, going hitless in eight at-bats, but make no mistake: As colleague Jim Callis noted in his Friday prospects report, the guy is legit and worth a deep-league look immediately.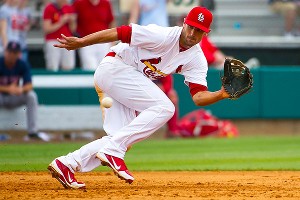 Scott Rovak/US Presswire
Prospect Kolten Wong is a second baseman, but, so far, it seems there is no concern Matt Carpenter, pictured, who can play third base, will lose playing time as a result of Wong's call-up.
Wong hit .303 for Memphis with 10 home runs (but 39 extra-base hits) and 20 stolen bases in 21 attempts, and if it wasn't for Matt Carpenter's All-Star season, we would have seen him months ago. Of course, now that Wong is up, one would assume he'll play, and that's bad news for David Freese owners. There remain a lot of Freese owners who have ignored the lack of production and trusted him based on name value. He began the weekend owned in more than 85 percent of leagues but outside the top 25 third basemen on the Player Rater. Freese has just one hit in his past 16 at-bats. Carpenter, by the way, is more than capable of handling second base or third base (or other spots, for that matter), and the weekend pattern suggests Wong and Freese are basically platooning. Wong bats left-handed, Freese right-handed. There are more right-handed pitchers in the league, by the way, so Freese is going to play less.