Dick Vitale is being inducted as a contributor into the Naismith Memorial Basketball Hall of Fame on Friday, and rightfully so. Vitale is a clear Hall of Famer. I have heard it said that Vitale is a Hall of Famer because of his love for the game and his unparalleled enthusiasm for basketball.
Baloney.
Vitale is a Hall of Famer because he is the real thing: a true, talented basketball guy. The Hall of Fame has nothing to do with the showing of emotion or love, and it has no special wing for those with great enthusiasm. There are no cheerleaders or fans in the Hall of Fame.
There are a bunch of players and coaches who have had great enthusiasm and really loved the game. There is no place for them in the Hall of Fame. To be a Hall of Famer as a player or a coach, you have to bring it on game day and do so for an entire career. To gain induction to the Hall as a contributor, you have to make a substantive contribution to the game. Enthusiasm and love are not enough. Personality is not enough.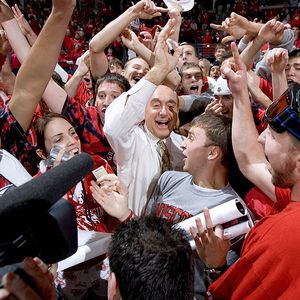 David Stluka/Getty Images
Dick Vitale has unparalleled enthusiasm for basketball, but there's no doubt he knows the game.
There are only great basketball people in the Hall of Fame. Vitale is a great basketball guy, pure and simple. He has a unique style and a bigger-than-life personality that have served to promote the game to great heights. Those are not getting him into the Hall of Fame. There is no wing for carnival barkers or salesmen in the Hall of Fame. Sure, Vitale loves the game, and he is about as enthusiastic as one can get in promoting it. But Vitale has not cornered the market on love of the game or enthusiasm for it, and nor has anyone else. Love and enthusiasm are not true measures of a Hall of Famer.
Imagine the game as it would be if Dick Vitale had not been in it. I cannot. Vitale is so woven into the fabric of the game that it is impossible to imagine what it would be like without him. When I played college basketball in the 1980s, Vitale was the gold standard. When he was doing your game, it was a big game. When he said something, it carried weight.
It wasn't big or weighty because Vitale was enthusiastic. It was big and weighty because Vitale had our respect. He came to practice. He talked to us. He did his homework. And he respected the game and those that were in the arena, while still saying exactly what he thought.
In anticipation of Vitale's induction, I went back and reviewed tapes from Vitale's early years in broadcasting. What I saw was unmistakable, vintage Vitale from the very beginning. He showed then, as he does now, a depth of knowledge of the game. He made astute observations, injected great insights and pointed out what few outside the basketball cognoscenti could immediately decipher and explained it in an easily digestible way.
Vitale is to basketball what John Madden is to football. He connects. His personality and persona have been big parts of the equation, but those factors are not enough, and with Vitale, they can distract from the fact that Vitale is a true basketball guy.
Make no mistake. Vitale is not just an entertaining broadcaster. He is a basketball lifer, one of the true greats. His personality and love for the game get him speaking engagements and commercials. His basketball knowledge and substantive contributions to the game get him a Hall of Fame bust.
Vitale created a new language for the game, and he made the game more fun. He made it more fun for the players, more fun for the coaches and more fun for the fans. Whether you realize it or not, Vitale also educated us all about the game and made something complicated seem simple.
In too many instances to count, game previews in major newspapers have had Vitale as a "key to the game." Those previews have opined that Vitale's presence will change the dynamic of the crowd and make a difference in the game. Vitale has to be the only basketball broadcaster to be so honored.
Like so many basketball people, Vitale has spent his entire life in and around the game. He never got into it for money or fame, and he never imagined that broadcasting would turn out the way it did. Vitale never imagined that his biggest step toward the Hall of Fame was when the Detroit Pistons fired him. He thought his career might be over, but it was just beginning.
Dick Vitale is being inducted into the Hall of Fame because he has been among the most influential and significant basketball people in the game's history. He is a basketball guy, he brings it every game and he's done so for an entire career. That's why he's a Hall of Famer. I hope he has the time of his life this weekend in Springfield, Mass. But, if you know Vitale, you know he always has the time of his life.
• Hiring for recruits
Much has been written and opined about Baylor's hiring of Dwon Clifton as an assistant coach. Clifton has a relationship with hot high school point guard prospect John Wall, and his hiring gives Baylor the inside track on Wall. Some call it a package deal and say Clifton has been hired only because he can deliver Wall. They are absolutely correct. Clifton is "qualified" for the job, but he is getting it primarily because of Wall.
College coaches have hired family members or people with influence over recruiting targets for decades. While the practice can be called unethical, there is no enforceable rule prohibiting it. Kansas hired Ed Manning (Danny Manning's dad) and wrested the younger Manning away from North Carolina. Memphis hired Milt Wagner (Dajuan Wagner's dad) and landed the younger Wagner. Let's go way back. Do you think LSU would have hired Press Maravich without the understanding that Pistol Pete would play in Baton Rouge?
The truth is, there are too many of these hires to count them all.
While it is easy to figure out the quid pro quo nature of such hires, it is impractical to try to legislate them out of the game. First, how do you prove the violation of a rule? Do we also plan to crack down on the practice of awarding a scholarship to the less talented brother of a blue-chip recruit? Do we intend to crack down on the awarding of a scholarship to a high school teammate of the blue-chipper? Where do we draw the line?
It is not that big a problem, anyway. There are not enough coaching jobs to fill your staff with cronies of recruits, and if you did, you'd be out of business before too long. And, if the NCAA tries to legislate this out of the game, it will wind up getting sued. When the NCAA gets into a court of law over such matters, its win percentage does not qualify for postseason play.
What do we do about the qualified AAU or high school coach who has really good players? Is he prohibited from coaching at a school his players might attend? How long would the moratorium be, so that there would be no appearance of impropriety and we all would feel comfortable?
Individual institutions can figure this out for themselves. Ask NCAA president Myles Brand, and he will tell you the integrity of college presidents is beyond reproach. Since that is the case, each college president can decide whether his or her school's basketball hires pass legal and ethical muster, and whether he or she can look in the mirror after the hire. If you want to get the presidents in line, start firing them for NCAA rules violations. If the buck stops on the president's desk, why not can him or her when there is a rules violation?
While we're looking for any little thing to make illegal or unethical in order to "level the playing field," do we need to consider banning the hiring of ex-players by the coach or school they played for? Is it a "quid pro quo" deal for Mike Krzyzewski to hire former players for his staff? How about Kansas hiring Danny Manning as an assistant? Is that equally wrong? Should we ban schools from having former players speak for a fee at their former coach's summer basketball camps?
On a related note, the NCAA is discussing a potential ban on colleges providing fair compensation to anyone associated with potential recruits. That means the colleges would be prohibited from paying an AAU or high school coach with a recruitable athlete from speaking at a clinic or camp. So, Bob Hurley of St. Anthony's in New Jersey, one of the most respected coaches in the game on any level, essentially would be prohibited from speaking at a college clinic or camp if he has good players back home.
Don't we have better things to do?
Wouldn't it be easier to let the college coaches have better access to recruits so we don't turn AAU coaches and agents' runners into such powerful influences on young recruits? Is it really smart to limit NCAA coaches to one phone call per week to a kid, then essentially force the NCAA coaches to call the kid's AAU coach dozens of times to get information to and from the kid?