Why Shaun Livingston is worth a look ...
If Livingston didn't have your attention before, he certainly should after what he did against Philadelphia's porous defense Monday night.
The 28-year-old got the start alongside Deron Williams in Brooklyn's backcourt and went for 13 points, 8 assists, 6 rebounds and 7 steals, looking very much like the Michael Carter-Williams-like player many expected him to be before the devastating knee injury he suffered as a 21-year-old.
Looking at Livingston's stats this season, it's easy to see why he's still available in more than 98 percent of ESPN leagues. For the season, he's averaging just 7.9 points, 3.2 assists, 3.1 rebounds and 1.2 steals per game, which is a whole lot closer to a Patrick Beverley than a Carter-Williams. Understood. That makes sense.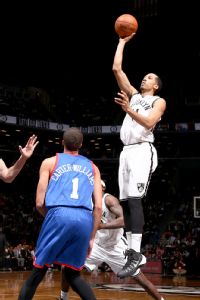 Nathaniel S. Butler/NBAE/Getty Images
Shaun Livingston played well against the Sixers on Monday.
However, if you look deeper, there could be more to this story. Remember, Livingston's big night on Monday came only two days after his career-high 24-point performance against an Indiana defense widely regarded as one of the NBA's best in the past decade. So there's that. And the game before, against a solid Oklahoma City defense, he poured in 16 points and added 4 rebounds, an assist and 3 steals.
Confidence can do amazing things for a player, and Livingston's confidence probably hasn't been this high since his prep days.
"Honestly, I'm not trying to jinx it and think about it. It's a situation where I know where I've come from, mentally as well," Livingston told the Associated Press after last night's game.
"I just want to continue my same confidence, continue to play with the same confidence, and I give credit to (Nets coach) Jason (Kidd) as well because I talk to him every day," Livingston added. "Just getting a chance to pick his brain gives me confidence, and to see the confidence that he has in me as well."
With Deron Williams struggling both mentally and physically this season, Livingston might be able to keep this going as far as his new-found confidence takes him.
How will the Lakers divvy up the point guard minutes?
Tuesday's game between the Los Angeles Lakers and Minnesota Timberwolves is expected to answer a lot of questions with regard to Mike D'Antoni's new backcourt rotation. Steve Nash and Steve Blake are both expected to play, and Jordan Farmar also could return after a lengthy absence, leaving Kendall Marshall's role very much up in the air.
So how can we expect things to shake out? And will there still be a big role available for Marshall, who has largely ran the team as the only healthy point guard on the roster over the past month?
D'Antoni told Dave McMenamin of ESPNLosAngeles.com on Monday that Blake could see time at shooting guard.
Nash likely will be eased back into the rotation after missing nearly three months because of nerve root irritation in his back and hamstrings, and even if he stays healthy, he's slated to sit out the second of back-to-back games, such as Wednesday against Cleveland.
D'Antoni's plan for Tuesday is to start Nash and limit him to the first 5-8 minutes of each half, according to Mark Medina of the L.A. Daily News. If Nash proves that he can stay healthy, and that's a big if, Marshall's minutes could ultimately depend on the team's use of Farmar.
Farmar will dress tonight, according to Medina, but he may be limited. If D'Antoni ultimately ends up giving Farmar 15-20 minutes a game on top of what Nash plays, there simply may not be any minutes to go around for Marshall. But there's also a chance that Farmar could lose his spot in the rotation to Marshall, who has averaged 11.9 points, 11.5 assists and shot a blistering 44.1 percent from 3-point range in 15 starts.
"I think he knows he's going to play," D'Antoni said of Marshall. "Whether he starts or whether he doesn't, he'll have to [get used to the fact that] it won't be the same. He's not going to get 35 minutes no matter what he does. So that's how the NBA is, and he'll have to keep carving his niche out. He's played well, so he's got to continue that."
Is the old Andrew Bogut back?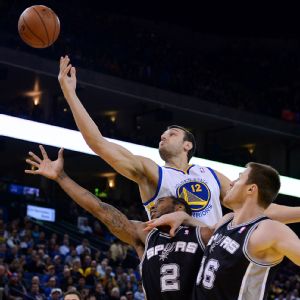 Kyle Terada/USA TODAY Sports
Golden State big man Andrew Bogut has been playing like the "Andrew of old" lately.
Don't look now, but Bogut is playing some of his best ball in years, or as ESPN's Ethan Sherwood Strauss appropriately puts it, "He's playing like Milwaukee Bogut."
The talk around the Bay Area last week was that the 29-year-old's 14-point, 17-rebound, 3-block performance in a win over the Clippers just might have been his best game as a Warrior. And it'd be hard to argue that … if he didn't put up 16 points, 17 rebounds, 5 assists, 3 blocks and 2 steals a day later at Utah.
"At the end of last season, it looked like Bogut was walking with razors in his shoes," Strauss explained. "But this year he looks so much more comfortable. He also has more elevation on his leaps, and his touch on those floaters has been impressive."
Over the past seven games, the 7-foot Aussie has notched 11 or more rebounds six times. He also has blocked at least two shots in every game, and three or more in five of those contests.
But before you can feel too comfortable relying on Bogut as one of the frontcourt anchors, there are two concerns. Him getting injured is the obvious one. As you probably know, that has been his bugaboo throughout his pro career, and it seems he has been very fortunate to stay healthy this season. The other thing to watch out for is that Golden State will rest Bogut any opportunity it gets to preserve him for the postseason, meaning he probably won't be on the floor in the fourth quarter of any game that's already well in hand.
Bumps and bruises
Jameer Nelson has missed the past two games because of a sore left knee, but hopes to be back for Wednesday's game against Detroit.

Houston is optimistic that Francisco Garcia (sore knee) will be able to return Wednesday against Phoenix after missing the past two weeks.