HOUSTON -- No matter what it takes, Kohl Stewart is determined to make things work when it comes to his desire to play two sports. But there are times when the schedules conflict.
Stewart found this out first hand as his Houston/St. Pius X teammates started two-a-days. Stewart, a star quarterback for the Panthers and ranked No. 91 in the ESPN 150 member is also an All-American pitcher. He knew it was impossible to be in two places at once as a pair of premier baseball showcases that Stewart was scheduled to participate in fell on the same week as the first week of fall football practice.
Early in the summer, he had resigned himself to the fact that he'd have to miss the first week of football practice because his baseball obligations would have him in California for more than a week.
While standing next to St. Pius X head coach Blake Ware during a break in his team's action in the Texas state 7-on-7 championships in July, Stewart informed Ware of his new intentions.
"He goes, 'You know, I can't do that,'" Ware said. "I was like 'What?' He said 'For those guys, I've got to be there. I've got to figure out how to do it.'"
So Stewart, the 6-foot-2, 195-pound four-star quarterback who is committed to Texas A&M for both sports, decided that he would do what it took to be with his teammates on the first day of two-a-days. His father helped him rearrange his flight schedule to make sure he could get the best of both worlds.
With his team scheduled to begin practice on Aug. 6 and Stewart scheduled to appear in the Area Code Baseball Games Aug. 5-10, Stewart flew to Long Beach, Calif., on Aug. 4, pitched on Aug. 5 in a 5-4 win for the Rangers Area Code team over the Reds Area Code team and flew back the morning of Aug. 6 in time for his team's first practice.
After being with his St. Pius X teammates for the first few days of football practice, he ventured west again on Aug. 9 in preparations for the Perfect Game All-American Classic, pitched in the game on Aug. 12 at PETCO Park in San Diego then jumped another early-morning Monday flight on Aug. 13 to get back for his team's 4 p.m. football workout that afternoon.
One night Stewart's teammates were watching him on TV in PETCO Park, and fewer than 24 hours later he was there with them on the practice field at St. Pius.
"I can't miss," Stewart said of his decision. "Being the quarterback and everything, trying to lead by example, I can't really miss practice like that. I was going to miss two-a-days for the whole week but I couldn't do that, that's too hard on my team."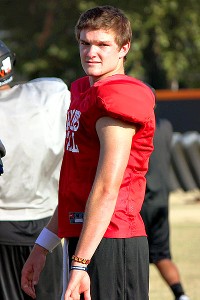 Sam Khan Jr./ESPN.com
Stewart like to play both baseball and football in college.
For Stewart, who is the nation's seventh-ranked quarterback in the Class of 2013 but also a likely high-round draft prospect for the 2013 MLB First-Year Player Draft, making both work is imperative. It's his dream to participate in both sports and he's willing to do what's necessary to make it happen.
Ware said that without it even having to be said, Stewart's football teammates understand how much he cares.
"I think it made a statement to the team that he's not just trying to ride out this little chunk of fame that he's getting right now," Ware said. "He's still here for the team, he still wants this team to do well. His focus right now is to do everything he can to get better for us making some sort of run within our district and of course when we get into the playoffs in November. It says a lot about him, it says a lot about his commitment to football and to our football program."
Stewart said his teammates have been supportive.
"They know that baseball is a big deal for me and that was kind of an important thing that I had to go out there and do," Stewart said. "So they supported me, but once I got back, they were ready to go to work and they worked without me and they're pretty supportive. We've got a lot of good guys on this team so it's easy with guys like that."
And even before his Texas-to-California-and-back adventure started, Stewart made sure to take an unofficial visit to Texas A&M to visit with coaches and check in on the Aggies' progress, even watching their first practice of fall training camp on Aug. 3.
"It went pretty good, everything went pretty smoothly," Stewart said of his visit. "I like how fast everything's going on offense. Our defense looked pretty smooth. They've got a lot of guys back, a lot of guys that can make plays and break games open so I guess we'll just see how everything shakes out."
He hasn't yet scheduled an official visit for the fall, but said it could be later in the year, perhaps when the Aggies host LSU on Oct. 20. For now, the talented quarterback is focused on the Panthers' season and not on their second-week showdown with Sealy and no. 1 receiver prospect Ricky Seals-Jones, but on their season opener against Houston/Kinkaid.
"We're really trying to do things internally, not really worry about who's on the schedule," Stewart said. "We're trying to get better day by day and come together as a group. That's probably the biggest thing for us. Last year we had a lot of talent, but we never really came together. We looked too far ahead, we were talking about state already and we're not going to do that this year. We're worried about Kinkaid. Right now, Kinkaid's circled on the schedule and Week 2, we'll worry about Week 2."
As for all the traveling and the fatigue that came of the back-and-forth between baseball and football, was it worth it for Stewart?
"Oh yeah, no doubt," he said.