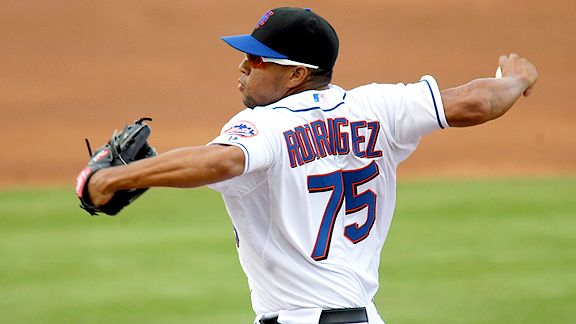 Marc Serota/Getty Images
Francisco Rodriguez tosses a scoreless inning in his first game action in a Mets uniform since Aug. 14.
Francisco Rodriguez focused when he took the mound for the third inning on Thursday at Digital Domain Park, not considering that he was about to deliver his first pitch in a New York Mets uniform since Aug. 14.
"Just get in and get out," K-Rod described his mentality.
For the first time since pitching the ninth inning against the Philadelphia Phillies at Citi Field last summer, after which he was placed on the disqualified list, forfeited $3.1 million and underwent surgery to repair a torn ligament in his right thumb, Rodriguez returned to game action in a Mets uniform.
His only regret during a scoreless inning: The St. Louis Cardinals were so aggressive swinging the bat that it was hard to get his pitch count up.
Daniel Descalso flied out on a first pitch to left field. Shane Robinson then doubled on a first pitch. Tyler Greene struck out. And K-Rod's brief outing ended when Matt Carpenter crushed a shot to right field that was knocked down by the wind and run down by prospect Kirk Nieuwenhuis for the third out.
Rodriguez was in court Monday in New York, updating authorities on the completion of the Venezuelan phase of his anger management training, which was ordered as the result of striking his girlfriend's father at Citi Field.
While in Port St. Lucie, he is attending two or three classes a week, in order to cram the course load into the length of spring training. Once he gets to New York, K-Rod again will attend multiple classes a week when the Mets are at home, to offset his inability to attend when the team is on the road.
"Remember, we have a really tight schedule," Rodriguez said, referring to spring training. "We're only here for less than eight weeks. Before that, I have to finish the plan."
Rodriguez indicated the classes are helping "a whole lot" -- although he pledged to still be demonstrative in games.
"It makes you see things that obviously you're not paying attention to, you're not thinking about," Rodriguez said. "It makes you see things a lot different. You cannot change what people think. Or you cannot pretty much make the people act the way you want. I thought it was going to be painful going to that [training] because of my situation, but it's been a lot easier, and it's been helping me outside the field."
The outside focus during the season will be whether Rodriguez finishes 55 games. Hitting that milestone will trigger a $17.5 million vesting option for 2012. Otherwise, the Mets will be responsible for a $3.5 million buyout in addition to K-Rod's $11.5 million salary this season, and Rodriguez will be a free agent next winter.
Rodriguez's agent, Paul Kinzer, has suggested he will closely monitor K-Rod's usage for irregularities. The union also pledges to watch to ensure the Mets are acting in good faith.
As for K-Rod's take on his vesting option, he said: "I don't honestly care, because I'm really grateful with what I have. And I don't really worry about what I don't have. … The rest is going to take care of itself. I honestly couldn't care less about that. It seems to be more people worry about that than I do. Whatever is going to happen is going to happen."
Rodriguez normally makes five or six spring-training appearances. He predicted he will make between 10 and 15 this time because he has been so inactive since his Mets suspension. Rodriguez did appear in one Venezuelan winter league game and said his surgically repaired thumb is fine.
One aim, Rodriguez added, is winning back Mets fans.
"It's pretty clear whatever I used to do I have to do double, because I've got to make up, trying to win the confidence of the New York Mets fans once again," K-Rod said. "I believe to get their respect once again, I have to go out there and compete and get my job done. That's the only way I can win their confidence back and hopefully they'll find a way to give me one more chance to prove what I'm capable of doing."