Somehow the Cleveland Browns managed to turn wide receiver Josh Gordon into a superstar and also get tight end Jordan Cameron to emerge, despite not having a quality quarterback or running back on their roster in 2013. Obviously, former offensive coordinator Norv Turner worked some magic there, but will new offensive coordinator Kyle Shanahan continue to draw big stats out of Gordon and Cameron in '14?
All indications are that the answer is yes.
"We'll be aggressive," Shanahan said of his offensive plans. "We won't sit back and wait for what the defense does. We'll try to score as many points as we can, and we'll try to do it being balanced.
"That doesn't mean we're going to pound it and beat our head against the wall, but we're going to always try to be in run-pass situations. We're going be aggressive on run downs, aggressive on pass downs and do whatever it takes to win the game. We're going to play fast."
The fact that he used the word "aggressive" three times in one brief statement certainly sounds promising for the fantasy values of Gordon and Cameron. His history as a playcaller also suggests that they will remain impact fantasy options.
When Shanahan was the Houston Texans' offensive coordinator in 2008 and 2009, WR Andre Johnson was targeted 170 times each season, while TE Owen Daniels was targeted 101 times in '08 and 40 times in eight games during the '09 campaign.
During Shanahan's four-season tenure with the Washington Redskins, he continued to feed his top WR and TE targets. In 2010, WR Santana Moss had 146 targets and TE Chris Cooley had 127. In 2011, WR Jabar Gaffney led the way with 115 targets, Moss had 96 in 12 games, and TE Fred Davis had 88 targets in 11 games. The '12 season was a bit of a wash because none of the Redskins' pass-catchers could stay healthy (Josh Morgan led the team with 73 targets). But during Shanahan's final season with the Redskins, Pierre Garcon led the NFL with 184 targets, and rookie tight end Jordan Reed averaged 6.5 targets per game before a concussion cut his season short.
So all signs point to Gordon and Cameron being fed early and often in Shanahan's system, which means both should be terrific fantasy options again in 2014. That said, for Gordon and Cameron to truly max out their full potential, the Browns will need to find a quality quarterback and running back during the offseason.
Here are more fantasy-relevant notes from the past week: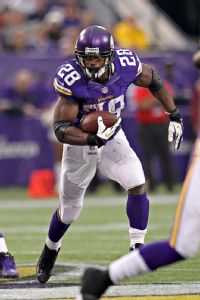 Brace Hemmelgarn/USA TODAY Sports
Look for Adrian Peterson to get a few more passes thrown his way in new offensive coordinator Norv Turner's offense.
Somehow Turner managed to go from a team with no decent running backs to a team with the NFL's best running back. With Turner taking over as the Minnesota Vikings' offensive coordinator, Adrian Peterson could get a bump in points-per-reception leagues next season. "Under Turner, the Vikings' plan for Peterson could look slightly different than how the 2012 NFL MVP has been used in the past," noted ESPN Vikings reporter Ben Goessling. "[Turner] talked about wanting to get Peterson the ball in space more often, which could sound like sweet poetry to Vikings fans who have wondered why Peterson hasn't been used as a receiving threat more over the years. The best season of Peterson's career as a receiver, not surprisingly, came in 2009, when he caught 43 passes for 436 yards from Brett Favre, who used running backs as receivers with great success during his career." Those remain career-high receiving marks for Peterson, who hasn't topped 217 receiving yards the past three seasons.