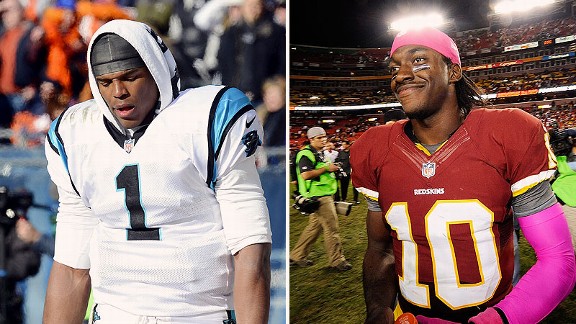 US Presswire/Getty Images
Robert Griffin III has had a little more to smile about than Cam Newton this season.Sunday's game between the Carolina Panthers and the Washington Redskins boasts a matchup of two electrifying quarterbacks, Cam Newton (the No. 1 overall pick in 2011) and Robert Griffin III (the No. 2 overall pick in 2012).
Though Griffin and Newton share many similarities, it is Newton who has more to prove Sunday based on this season's performance.
Both players have enjoyed fast starts to their career. Griffin and Newton are two of the three players in NFL history with eight touchdown passes and six rushing touchdowns in their first eight career games, according to the Elias Sports Bureau.
First 8 Games Of Rookie Season
They are among the few quarterbacks in the league who can create very effectively with their arm and legs, which their teams looks to utilize.
The Panthers and Redskins rank first and second in option rush attempts and yards this season. In fact, each team has more option rushes than the rest of the league combined.
Both quarterbacks also rank first and second in designed quarterback runs -- Griffin is averaging 4.7 yards on 41 designed runs and Newton averages 5.4 yards on 34 designed rushes.
Each team utilizes their quarterback's unique ability to run the ball by using a lot of play-action passing. Griffin has attempted 41 percent of his passes on play-action this season -- easily the highest percentage in the league -- and Newton ranks second, attempting one-third of his passes using play-action.
Newton has particularly struggled to help the Panthers put points on the board in goal-to-go situations.
Goal-To-Go Passing This Season
Newton has completed 2-of-14 passes in such situations with two interceptions, and his 1.8 Total QBR in such situations is the third-worst in the league.
His goal-to-go struggles against the Giants in Week 3 epitomized his troubles for the season. That day he was 0-for-4 with an interception on such throws.
Last season Newton completed 10-of-20 passes in such situations, with seven touchdowns and a 59.1 Total QBR.
By comparison, Griffin has completed 6-of-10 passes in goal-to-go situations with four touchdowns and no picks.
Why has Newton been so ineffective in close this season?
Nine of his 14 throws in goal-to-go situations have been off-target (an incompletion resulting from an overthrown or underthrown pass), compared with six of 20 last season.
One of about every 8.5 Griffin passes has been off-target this season, the second-lowest percentage in the league. By comparison, nearly one of every five Newton passes has been off-target.
That may be a boon to the Redskins secondary. Washington has allowed more goal-to-go touchdown passes (10) than any team in the NFL.