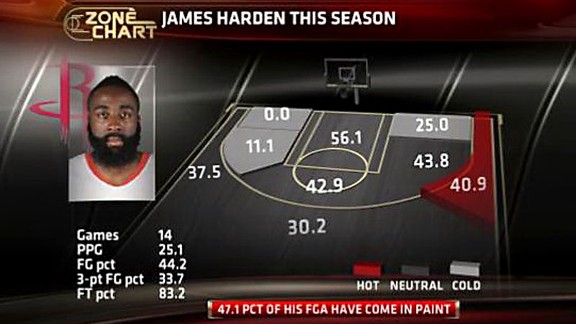 US Presswire
James Harden's Zone Chart shows where he is making his shots this seasonTonight James Harden returns to Oklahoma City to play his old team for the first time since being traded to the Houston Rockets on Oct. 27. While only time will tell whether the trade helped or hurt the Oklahoma City Thunder, one thing for certain is that Harden is having the best year of his career.
Harden's talent has always been there, but there were doubts about whether he could thrive as the focal point of a team. So far this season he has been giving his doubters reason to eat their words as he has significantly improved his per game averages in points, assists and field goal attempts. He is averaging 8.3 points per game more this season than he did last season and is dishing out an average of 1.7 more assists.
James Harden: Pick-and-Roll Ball Handler
This Season
This season Harden has been more effective off of the pick-and-roll than he has been in isolation. He leads the league with 8.9 points per game off of the pick-and-roll and is averaging only 0.86 points per play in isolation this season. Last season he averaged 1.04 points per play on isolation plays, which ranked in the top five in the league.
As a pick-and-roll ball handler Harden is shooting 53.5 percent and averaging 1.10 points per play this season, both of which rank in the top 10 in the NBA (minimum 25 plays). Last season Harden averaged 1.06 points per play on the pick-and-roll, which was good for third in the league (minimum 25 plays).
Harden's shot selection has also changed from his time at OKC. In the Zone Chart above we can see that most of his points are coming from within close range of the basket. Last year with the Thunder 44 percent of his shots came in the paint. With the Rockets he has been taking the ball to the rim, boosting that number to more than 47 percent. He is making more field goals inside 5 feet this season (57) than from 5+ feet (48) and is shooting 60.8 percent from close range as opposed to 33.1 percent on shots 5 feet or further from the basket.
Harden Shot Selection Pct Of FGA
When he was in Oklahoma City Harden was more likely to shoot from beyond the arc. Last year almost half of his shots came from behind the 3-point line. This year it's closer to a third.
Harden's usage percentage has also increased tremendously (Usage Percentage is the percentage of team plays used by a player when he is on the floor). He is creating 12.9 points per game off of his assists, and his 12 assists Tuesday against the Raptors resulted in a career-high 28 points for his teammates. Chandler Parsons and Patrick Patterson have benefitted the most with Harden on the court this year. Both have 15 field goals made off of Harden assists, the most on the team. Omer Asik (12 FGM) and Jeremy Lin (11 FGM) have also benefitted greatly from Harden's play this year.