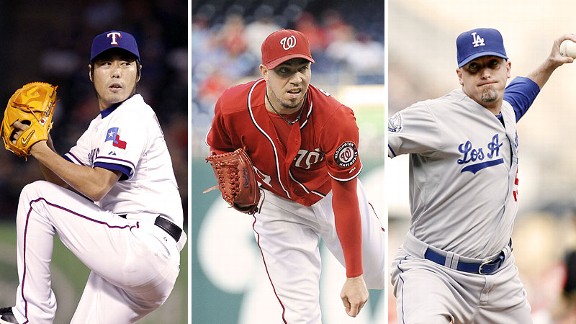 AP Photo/USA Today Sports
Koji Uehara, Sean Burnett and Randy Choate each bring something noteworthy to their new teams
Throughout the offseason, we'll feature regular in-depth reviews of MLB moves. This week's piece looks at three middle relievers/setup men who were prominent signings at this year's Winter Meetings-- Koji Uehara, Sean Burnett, and Randy Choate.
Red Sox agree to deal with Koji Uehara
Since becoming a reliever for the 2010 season, Koji Uehara has thrown nearly 72 percent of his pitches for strikes, the highest strike rate in baseball.
His 7.97 career strikeout-to-walk ratio is best all-time among pitchers with at least 35 innings; Uehara has done it over more than 200 innings.
Lowest Opponents' OBP
2012 Season
Uehara threw just 13 percent of his pitches when behind in the count last season, the lowest rate in baseball, and went to zero 3-0 counts and only two 3-1 counts to the 130 hitters he faced.
Uehara is one of the toughest pitchers in baseball to face with a two-strike count. Opponents were 8-for-80 in two-strike situations against him last season.
Uehara's .122 opponents' on-base percentage with two strikes rated second-lowest in the majors, trailing only Craig Kimbrel.
Uehara's fastball-splitter combo was outstanding in those situations. He got a 35 percent miss rate and 27 strikeouts with his splitter. Of the 30 hitters for whom an at-bat ended with a two-strike fastball, 29 made an out.
Uehara is also someone the Red Sox can count on coming in with runners on.
In his career, Uehara's inherited 56 runners and allowed only nine to score (16 percent), well below the league average of about 30 percent. In his 145 career relief appearances, he's retired the first hitter 121 times (83 percent).
Finishing the season strong hasn't been a problem for Uehara.
In the regular season, he's faced 115 hitters in September or October; amazingly, he's struck out 54 and walked only one.
The Rangers may have collapsed memorably down the stretch last season, but don't blame Uehara; in September and October, including the postseason, Uehara struck out 22 hitters and walked one in 12 2/3 innings, allowing no runs and only two hits.
--Dan Braunstein
Angels sign Sean Burnett; Cardinals sign Randy Choate
Two of baseball's best left-handed relievers got multi-year contracts last Wednesday. Let's take a look at what each brings to his new team.
Sean Burnett joins a Angels bullpen that last year held lefties to a .661 OPS, slightly better than league average. Burnett is a control artist and groundball machine that also has the ability to get a strikeout when needed.
Burnett walked one lefty batter all season –- Jason Heyward in a 9-4 game on July 20 – and reached only 12 3-ball counts in his 95 plate appearances against lefties. His 68 percent ground-ball rate versus lefties was second among southpaws behind Eric O'Flaherty (min. 75 PA).
Randy Choate and Sean Burnett
Vs LHB Last Season
Burnett doesn't have overpowering stuff, with a fastball that barely hits 90 MPH, but he can still miss bats when it counts.
He struck out nearly one-third of the left-handed batters he faced with men on base, a rate that was the highest among all lefty relievers (min. 55 PA).
Randy Choate has found a new home in St. Louis after mowing down NL East lefties with the Marlins last year. Choate is a true lefty specialist, with a 243-point difference in OPS versus lefties (.563) and righties (.806) for his career.
His slider was nearly unhittable last year, netting him 41 outs in the 43 plate appearances against lefties that ended with the pitch. He allowed two singles with his slider in a five-appearance span from June 13-July 2, and zero hits with the pitch the rest of the season.
--Katie Sharp