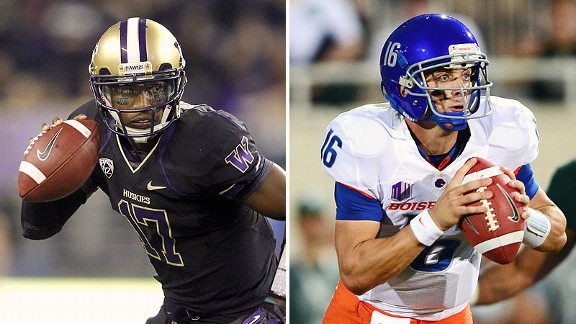 USA TODAY Sports
Nine things you need to know about Saturday's MAACO Bowl Las Vegas (3:30 p.m. ET on ESPN) between the Washington Huskies (7-5) and the No. 19 Boise State Broncos (10-2).
1. Boise State's accomplishments in recent years have been staggering. In its past six losses (since 2007), the Broncos have been outscored by a total of 14 points, never losing by more than four points. Under Chris Petersen, Boise State has won at least 10 games each of the past seven seasons, the longest streak in the nation.
2. Washington is looking for its first eight-win season since 2001 under Rick Neuheisel. Boise State has reached the eight-win plateau every season since 1999.
3. Both schools have one common opponent this season: San Diego State. Washington beat the Aztecs 21-12 in the opener; Boise State lost 21-19 in November.
4. Petersen's squad is familiar with the Las Vegas Bowl. Boise State has won this bowl each of the past two years, including last year's 56-24 rout of Arizona State. Ironically, both Boise State and Washington scored 56 points in their respective bowl games last season. However, Washington dropped a 67-56 decision to Robert Griffin III and Baylor in the Alamo Bowl.
5. Don't expect a quick start offensively for Washington. The Huskies average 11.8 points in the first half, tied for 87th best in FBS. Boise State has shut out seven opponents in the first half of games this year, most in FBS. No team has allowed fewer points in the first half than Boise State, who have outscored opponents 235-40.
6. Washington QB Keith Price has struggled compared to last season. He's thrown 15 fewer touchdowns with the same amount of interceptions (11). In the red zone, his completion percentage has dropped from 74.1 percent last year to 57.6 percent this year. In four games against currently ranked teams, Price has thrown one touchdown and five interceptions.
7. Boise State has allowed just three passing touchdowns all season, fewest in FBS. Two of those touchdowns came late in the fourth quarter when leading by at least 17 points.
8. Boise State QB Joe Southwick hasn't thrown for more than 311 yards in a game this season. Last year, with Kellen Moore at quarterback, the Broncos exceeded that total six different times. The team averages 96.5 fewer pass yards and has thrown just 17 touchdowns, 25 fewer than last year. Petersen seems to have adjusted play calling without Moore, as Boise State throws the ball 47.6 percent of the time in the 1st half, down from 57 percent last year.
9. Give the field position edge to Boise State. Boise State's average drive has started on the 37-yard line, 2nd best in FBS. In fact, Boise State has ranked in the top five in average starting field position each of the past four seasons. One reason is its +18 turnover ratio (4th in FBS). On the other sideline, Washington has turned the ball over 25 times this season (T-89th in FBS), including 15 times in its five losses.