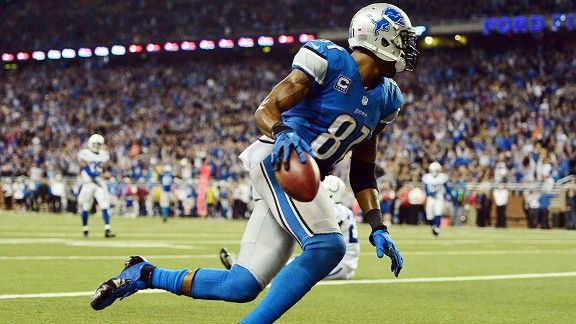 Andrew Weber/USA TODAY Sports
Calvin Johnson needs 182 yards to set the NFL record for receiving yards in a season.The Atlanta Falcons can clinch home-field advantage in the NFC with a win on Saturday night against the Detroit Lions but that probably is not the biggest storyline of the game.
Most Receiving Yards In Single Season
NFL History
With 1,667 receiving yards, Calvin Johnson needs 182 yards over his final two games to break Jerry Rice's record for the most receiving yards in a single season.
Johnson is on a near-record pace so far. He already has the second-most receiving yards in NFL history through 14 games, behind only Charley Hennigan's 1,746 yards in 1961.
In fact, he is well ahead of where Jerry Rice was through 14 games back in his record-setting 1995 season. Rice, however, exploded for 442 yards in his final two games, including 289 in Week 16.
What will Johnson do in Weeks 16 and 17?
Johnson simply needs to match his career averages against his final two opponents – the Falcons and Chicago Bears - to break Rice's record. Johnson has averaged a combined 184 yards per game against those opponents in 12 career games.
The Falcons haven't let many receivers reach the century mark. Just five players have recorded at least 100 yards receiving against the Falcons. Only four teams this year have allowed fewer 100-yard receiving games than Atlanta (Steelers, Bengals, 49ers, Jets).
The Stafford effect
Helping Johnson is the fact that Matthew Stafford is throwing nearly 45 times per game and is on pace to break Drew Bledsoe's record for most pass attempts in a single season (691 in 1994). Not surprisingly, the Lions have called for a designed pass more frequently than any other team in the league, more than two-thirds of the time.
He has gotten plenty of help from Stafford in piling up his yards. Johnson averages just 3.7 yards after catch per reception, which ranks 99th out of 136 qualified receivers. His average target depth of 13.9 yards ranks seventh in the league.
Throws Over 20 Yards Downfield
Lions This Season
Also key to his record pace this season has been his reliability on deep passes.
Johnson has more targets and receptions on throws of more than 20 yards downfield than the rest of his teammates combined. He also has no drops on such throws compared to four by the rest of the Lions.
Despite all the yards, Johnson has only five touchdowns. He has been targeted 14 times in the end zone (only six players have more end zone targets) but has just two receptions on those targets. However, it's not all his fault – he has only one dropped pass on a ball thrown to him in the end zone.
More records
Johnson is also chasing a few other records. He has at least 100 receiving yards in seven straight games, matching the NFL record set by Hennigan in 1961 and Michael Irvin in 1995. Johnson is also one of five players with 10 or more catches in three straight games. No player in NFL history has done it four games in a row.