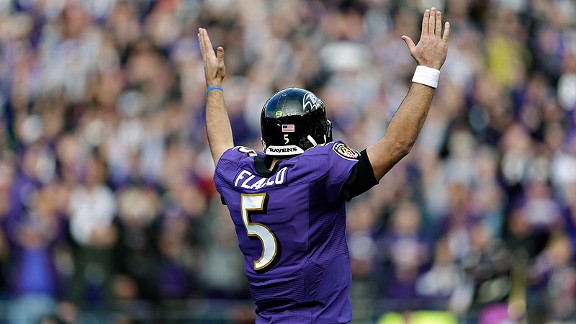 AP Photo/Patrick Semansky
Joe Flacco had a day to celebrate on Sunday.
The experience of Baltimore Ravens quarterback Joe Flacco won out over the performance of an up-and-coming rookie.
The Ravens became the sixth team in NFL history to win a playoff game in five straight seasons and improved to 6-1 all time in the wild-card playoffs.
Ray Lewis got much of the attention for his team-high 13 tackles, but Flacco and the Ravens' offense also played a huge role.
Let's take a look at some of the statistical highlights.
Flacco's big day
Flacco completed 12 passes but managed 282 passing yards.
The only other quarterback since 1960 to have at least as many yards on that few completions in a postseason game was Tim Tebow for the Denver Broncos against the Pittsburgh Steelers last season.
Passing 15-Plus Yards Downfield
Sunday's Game
Flacco was 5-of-8 passing at least 15 yards downfield Sunday, including 4-of-5 targeting Anquan Boldin.
Anquan Boldin set a Ravens team playoff record with his 145 receiving yards. He had two catches on throws that traveled 31 yards or more in the air, matching the number he had in the entire regular season.
Flacco finished second in the NFL behind Drew Brees with 10 such completions in the regular season. He was 2-for-2 on such throws Sunday after completing only 10 of 39 in the regular season.
Ravens were tough on Luck
Andrew Luck set a postseason single-game rookie record for pass attempts and had the most passing yards by a rookie in a playoff game since Sammy Baugh in 1937.
But the Ravens' aggressive pass rush caused Luck a lot of trouble. He was 5-for-14 for 56 yards when the Ravens sent five or more pass-rushers at him. He was also sacked three times by that rush.
Luck Passing vs. Five-Plus Rushers
Luck had a fumble and an interception, snapping a streak of three games without a turnover.
Colts receivers didn't help him out. They registered seven dropped passes by our video review, tied for the most by any team in a game this season.
Luck finished with a 27.2 Total QBR, his third-lowest in any game this season.
Pierce picks up for Rice
With teammate Ray Rice fumbling twice (once more than he did in the entire regular season), Bernard Pierce picked him up with a terrific day -- 103 rushing yards on 13 carries, the first 100-yard-rushing game by a Ravens player in postseason play since Jamal Lewis had a pair in 2000.
Pierce had 46 yards after contact. His 3.54 yards after contact per rush average was the best of any Raven with at least 10 rushes in a game since Willis McGahee averaged 5.8 in Week 17 of 2009.
Pierce averaged 2.1 yards after contact on runs in the regular season. With Adrian Peterson and the Vikings having been eliminated, Pierce's average ranks best among those still in the postseason.
Looking ahead
The Ravens will get a second look at the Broncos, and Flacco will hope for a better performance than he had against them in Week 15.
In a 34-17 loss that day, Flacco posted an 0.4 Total QBR, tied for the second-worst single-game QBR by a quarterback in a game this season.