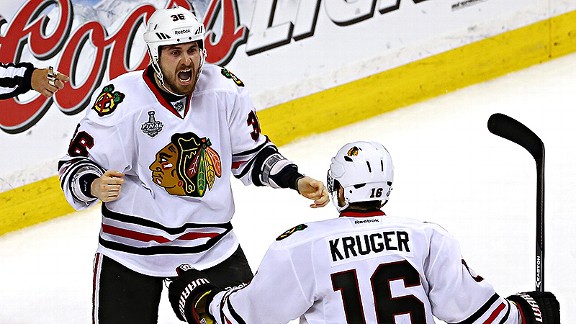 Elsa/Getty Images
Dave Bolland scored the game-winning goal to help the Chicago Blackhawks win their fifth Stanley Cup in team history.
For the second time in four seasons, the Chicago Blackhawks are Stanley Cup champions.
The win was not short on drama: Bryan Bickell tied the game with 1:16 remaining and Dave Bolland scored the game-winner 17 seconds later.
According to the Elias Sports Bureau, that turnaround shattered the previous record for shortest span between game-tying and Cup-clinching goals in Stanley Cup history.
Of the four quickest such spans, the Bruins have one of them and have been on the receiving end twice.
Shortest Span Between Game-Tying and Cup-Clinching Goal
Stanley Cup Playoff History
Bolland's goal was the latest Cup-clinching goal in regulation in NHL history, almost a full minute later than the previous mark, held by Bill Carson of the 1929 Boston Bruins.
Jonathan Toews scored Chicago's first goal and assisted on the game-tying goal by Bickell. It was Toews' second straight multi-point game.
The move to pair Toews and Patrick Kane on the same line before Game 4 seemed to pay off.
Of the Blackhawks' 12 goals over the final three games, Toews and Kane were on the ice together for eight of them (they were not on the ice together for any of the Blackhawks' five goals in the first three games of the series).
Toews and Kane
2013 Stanley Cup Final
Kane didn't log a point in the deciding game, but was named the Conn Smythe Trophy winner. He's the third straight American-born player to win the award, and fourth overall, joining Brian Leetch in 1994, Tim Thomas in 2011 and Jonathan Quick last season.
The Blackhawks are the eighth team to win the Presidents' Trophy and the Stanley Cup in the same season, and is the first to do so since the Red Wings won both in 2008.
The Stanley Cup has now been won on the road in five of the last six seasons. Only the 2012 Kings won the cup-clincher at home in that stretch.
Home ice was supposed to be an advantage for the goalie with the third-longest home shutout streak in a single NHL postseason.
But Boston's Tuukka Rask struggled in his final two home playoff games after a dominating stretch that began in the Conference Semifinals.
Over a six-game home stretch from Game 1 against the Rangers to Game 3 against the Blackhawks, Rask allowed six goals and saved 97 percent of shots faced.
But in his final two home playoff games, Rask allowed nine goals and had a .885 save percentage.
The Bruins are just the third team in the past 25 seasons to lose the Final in six games after leading 2-1, joining the 1989 Montreal Canadiens and the 1991 Minnesota North Stars.