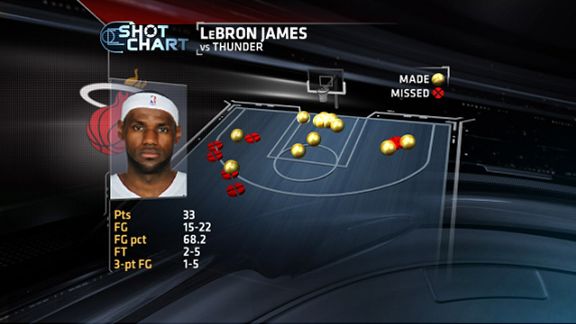 LeBron James was perfect in the paint in a near-perfect Heat win.The Miami Heat may have left their meeting with the Oklahoma City Thunder a little bloody, but the Thunder were the team that got battered from a basketball perspective.
The Heat routed the Thunder 103-81 to finish its six-game road trip with a 5-1 mark.
Three-Man Weave - Thursday
It was the second-biggest margin of victory for LeBron James in a head-to-head matchup with Kevin Durant (he had scored a 35-point win against Durant in the 2008-09 season) and the third-largest margin of defeat in a home game for the Thunder since they moved to Oklahoma City.
The Heat's Big 3 combined for a season-high 81 points. It was the third time this season that James, Dwyane Wade and Chris Bosh each scored at least 20 points in the same game. Wade finished with his first 20-point, 10-assist game since Nov. 25 against the Suns.
LeBron's Fast Start
James scored the first 12 points of the game for the Heat. Elias noted that was the most consecutive points he has scored to start a game in his career.
His previous high was the first nine points for the Cavaliers against the Memphis Grizzlies on Nov. 5, 2005 .
James was 8-for-10 in the first quarter, with both of his misses coming from 3-point range. He scored a season high 21 first-half points.
James finished 11-for-11 in the paint, his most in the lane without a miss in any game in his career.
James was 6-for-8 when guarded by Durant, with his average shot coming from 16 feet away. He was 2-for-6 when guarded by Durant in the first meeting between the teams.
James is now 14-4 in head-to-head meetings with Durant, including postseason.
Durant shut down by Battier
Durant did score 28 points, but most of them came with the Thunder well behind. When the Heat needed to stop Durant, Shane Battier did the job.
Durant was 1-for-9 from the field with four points and four turnovers when Battier was his primary defender. Durant was 9-for-13 for 25 points and had one turnover in all other situations.
Durant was 1-for-6 from 3-point range on a day when his team went 2-for-20. That tied the second-worst shooting percentage for any team with at least that many 3-point attempts in a game this season.
Heat own the running game
The Heat scored only eight transition points on nine transition opportunities in the first meeting with the Thunder on Jan. 29.
They scored 20 points on 16 transition opportunities on Thursday night.