In terms of notable transactions (signings, trades, international activity), this has been one of the busiest 12-month spans in MLB history, and it all started with San Diego Padres general manager A.J. Preller wheeling and dealing for Justin Upton, Matt Kemp, Craig Kimbrel, Wil Myers, James Shields and others. He was my preseason favorite to be the 2015 Executive of the Year.
Alas, that selection quickly went awry, as each Padres shortcoming was exposed; the Padres never really contended.
Meanwhile, the Detroit Tigers' re-signing of Victor Martinez and trades for Yoenis Cespedes, Alfredo Simon and Shane Greene had then-team president Dave Dombrowski getting a lot of accolades. By early August, he would be fired by the team.
In Seattle, Mariners general manager Jack Zduriencik's signing of Nelson Cruz was supposed to be the final piece for the Seattle Mariners' playoff puzzle, and many analysts picked them to win the AL West (or more). He too would be unemployed come September.
Baseball is a humbling business, not just for players and managers, but for front-office executives as well. Just ask Preller, Dombrowski and Zduriencik, the latter two of whom were actually among the Top 5 Executive of the Year candidates in 2014 (Dombrowski was No. 5, Zduriencik was No. 2). To further reiterate that, last year's No. 1 exec, Billy Beane, has fielded a last-place team in 2015, while the No. 3 selection, Jerry Dipoto, resigned as the Angels' GM in early July, reportedly as a result of an in-house power struggle. Some years, GMs can make all the right moves, and other years, things don't go as planned; when those moves don't pan out, they must take responsibility for them and show accountability. It's just part of the game and big business in general.
Navigating through all the worthy candidates for Executive of the Year is a difficult task, mostly because teams aren't built in any singular year; rather, it's a period of three to five years. Therefore, some of the game's best executives, such as Cardinals GM John Mozeliak, don't even make this list because key parts of their team were built well prior to a winning season. This is especially true of teams that build the core of their team from within, through scouting and player development (again, such as the Cardinals).
In the end, for this set of rankings, I evaluated the executives based on the moves they made this past year in relation to the actual team and individual results.
Free-agent signing: Russell Martin
Trades: David Price, Josh Donaldson, Troy Tulowitzki, Ben Revere, LaTroy Hawkins, Mark Lowe, Marco Estrada, Cliff Pennington, Darwin Barney and Liam Hendriks.
Waiver claim: Justin Smoak
Competitive Balance Tax (CBT) payroll: $141,557,112
Division rank: 1st (AL East)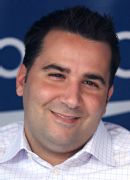 Anthopoulos worked hard to improve the Blue Jays in all facets offensively, defensively and on the mound while not forgetting that leadership and clubhouse culture are important. No MLB executive transformed his team more this past year, in my opinion, than Anthopoulos.
It all started with the signing of free-agent catcher Russell Martin, a move that improved the pitching staff thanks to Martin's game-calling and leadership on and off the field. He followed that up with a blockbuster trade with the Oakland Athletics that landed the AL MVP front-runner Josh Donaldson. Those were the two key offseason moves, and as the trade deadline approached, he'd land a Cy Young Award winner (David Price) and five-time All-Star shortstop (Troy Tulowitzki). Even his smaller moves have panned out, including adding left fielder Ben Revere, who is hitting .325 with the team, and infielder Cliff Pennington, who is currently filling in at shortstop. With those two in place, the Blue Jays have eight above-average defenders on the field. The Blue Jays are now a legit World Series threat.
Incoming Blue Jays president Mark Shapiro won't join the team until their season is over, but when he does, his first order of business should be signing Anthopoulos to a five-year contract extension and plan a day to celebrate his first Executive of the Year Award.