Two years ago I asked one of our baseball analysts what they thought of Matt Garza, and they compared him to a young John Smoltz. Those comparisons increased in volume after Garza beat the Red Sox twice, including in Game 7 of the ALCS
That alone could make Garza One2Watch4 in 2010, after a so-so 2009, but that's not why I find him so interesting.
What makes Garza worth keeping an eye on is that he is statistically fascinating.

In 2008, Garza had a group of starts that would have been labeled "tremendously tremendous." He two-hit the Rangers, one-hit the Marlins and had eight other appearances in which he pitched seven or more innings and allowed one run or fewer.
In the 11 games Garza won, his ERA was 0.64. I challenge you to find a pitcher who could match that. At the time, we asked Elias, and looked on Baseball-Reference.com, and the pitcher whose name kept coming up was Nolan Ryan. In 1980 Ryan won 11 games and had an ERA of 0.89 in those victories. The following year, he won 11 games, and had an ERA of 0.53 in his wins.
The problem for Garza was his other 19 starts. Some were decent. Most were not. His ERA in them: 6.30.
Fast-forward a year and you think that maybe those two ALCS wins will turn Garza into a star. They did….at least against the teams in the AL East (a more detailed analysis of which can be found in the blog Drays Bay). Most notably, Garza made six starts against the Red Sox, had a 2.74 ERA, and a .194 opponents batting average. But that didn't carry over to other opponents.
Garza finished 2009 8-12 with a 3.95 ERA, and Rays diehards properly attribute that to his lack of run support.
What was both amazing and puzzling about Garza's performance was this: How could a right-handed starter pitch so well against left-handed hitters, and yet not be dominant?
Among righty starters, Garza held lefties to the LOWEST batting average (.196) and the LOWEST slugging percentage in baseball (.309), and though he walked too many, he only allowed 30 percent to reach base (14th-best out of 102)
The five right-handed pitchers just behind Garza in lowest lefty slugging percentage? Try Tim Lincecum, Josh Johnson, Chris Carpenter, Scott Baker, and Felix Hernandez. Nice combination.
Yet for some reason, the success didn't translate against right-handed batters, who hit .271 and slugged .463 against him. Simply put, that's what separates Garza from greatness, and we can dig deeper at another time to get at the hows, whys, and specifics.
But for now I'm left to wonder: After doing what he did in 2008 and doing what he did in 2009, what can Matt Garza do in 2010 to be as statistically fascinating? I'll be watching.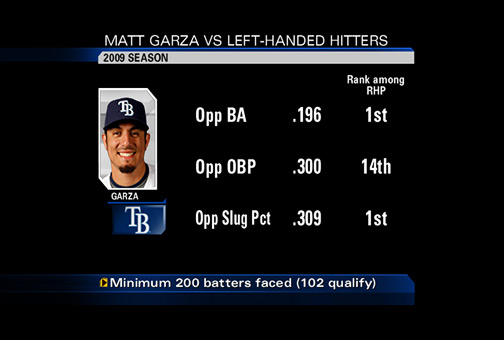 Wednesday: The Baltimore Orioles