Despite immense talent, B.J. Upton has had a mostly disappointing career. Not bad, mind you, but disappointing. Early on, finding him a position on the field was difficult, and it hampered his development. Then, shoulder problems sapped his power.
We received a glimpse of Upton's potential in 2007 when he hit .300/.386/.508 (batting average/on-base percentage/slugging percentage). In 2010, he's now another year removed from his November 2008 shoulder surgery and has made some tweaks to his swing, and it looks as if Upton's power has finally returned. His .242/.330/.440 line won't blow you away, but there are reasons to be bullish about the Tampa Bay Rays' 25-year-old center fielder.
Late last year, TMI contributor R.J. Anderson wrote a post over at the DRaysBays blog in which he broke down Upton's swing. He noticed that Upton was swinging with his shoulder flying open, which hurt him on outside pitches and prevented him from driving the ball to the opposite field.
This year, his shoulders look more level as his bat comes through the zone and appear better in sync with the lower half of his body. His swing, which always is fast because of his powerful and quick wrists, doesn't have the same odd hitch that it had last season, and it's allowing him to drive the ball to all fields. Check out this spray chart: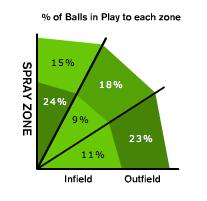 Upton was mostly a pull hitter last season, but he's used the whole field thus far this season, which is promising. Also, his batting line is better than you think. For starters, Upton's batting average on balls in play is .273. His career number is .338, so he's probably been a bit unlucky thus far. More notable is his isolated power, which currently sits at .198 after hovering around .130 the past two seasons. The last time it approached .200 was in the aforementioned 2007 season, when it was .209.
Upton's 2007 season hinted that he was a potential monster player. If he's finally over his shoulder problems, as it appears he is, Tampa Bay's offense, which is already loaded, would be downright scary. The Rays are already No. 1 in this week's ESPN.com MLB Power Rankings, and Upton could make them even better.
Marc Normandin is an author of Baseball Prospectus.