Stephen Strasburg's first start Tuesday exceeded all expectations, especially in terms of dominance: He racked up 14 strikeouts without a walk, throwing just 94 pitches over seven innings. That electrifying stuff (displayed with 17 swinging strikes) combined with pinpoint command is what makes the 21-year-old so extraordinary. For Strasburg, everything builds off his high-90s fastball; he throws both a four-seamer and a two-seamer, which he blew past batters Tuesday for eight of his swinging strikes. And his secondary pitches are great as well. He has a high-80s circle change that he locates low in the zone, and a low-80s, knee-bending curve.
On Tuesday, he had everything working. Using the pitch f/x data, and focusing on the location, pitch type and results broken up by batter handedness, let's take a closer look at just what kind of craziness the Pirates were trying to hit.

In the graphs below, the pitches are color-coded: Taken pitches are faded, and those that are swung at are in full color. Whiffed pitches (swinging strikes) are marked with an x, and hits are circled. This leaves foul balls or outs as full color with no markings. The images are from the catcher's perspective.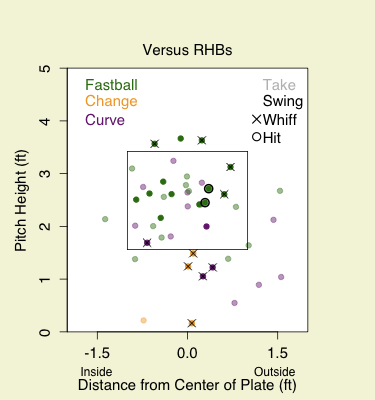 Strasburg was beyond nasty against righties. A full 50 percent of the pitches they swung at were missed, well above the league average of less than 20 percent. The two hits were opposite-field singles to shallow right, as Andy LaRoche and Lastings Milledge desperately did all they could with a pair of outside high-90s fastballs. But mostly it is tons of whiffs, on fastballs up in the zone and on changeups and curves low in the zone. Also, notice how everything is near the zone –- when he misses, it's not by much. That demonstrates Strasburg's amazing command; the fact that he can pitch at those velocities and with that much movement and still be so tightly around the zone with his pitches is astounding.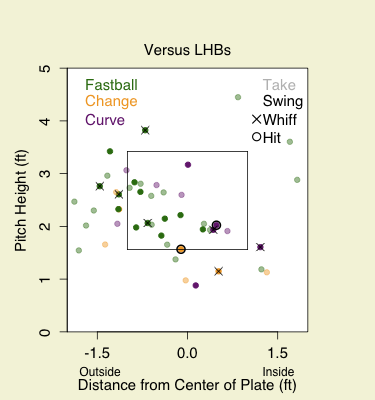 Against lefties Strasburg expertly keeps the ball low and away, which is where lefties typically do the least damage. The home run allowed to Delwyn Young, a change low in the zone, was an exception, and a mistake he will certainly learn from. Still, even facing opposite-handed hitters, he got a ton of whiffs on fastballs up-and-away and on curves and changeups down-and-in.
Anyone who watched the performance knows that he put on a clinic. These images tell some of the story, but he really has to be seen to be believed. It isn't always going to go this well for Strasburg, but in his major league debut he, impossibly, exceeded the hype. This kid is special.
Dave Allen is a writer for FanGraphs.