As it stands now, Albert Pujols ranks 15th among position players in Wins Above Replacement (WAR). That's great for most guys, but Pujols has finished at the top of that list in three of the last five years, so something seems wrong. Pujols' Weighted On Base Average (wOBA) is .412, which is 23 points lower than his career average. And after examining some Pitch F/X data, we can see why Pujols is "struggling."
Looking through Pujols' offensive history, a couple of statistics jump out immediately.
For starters, his power is down. He's slugging .569 after putting up a .658 mark in 2009.
Traditionally, Pujols has been better than the league average in chasing balls out of the zone, and making contact on balls in the zone. So far this season he has slipped to league average in both statistics. He's swinging at 28.3 percent of pitches out of the zone, and making contact on 88.9 percent of strikes. For his career, those numbers are 19.8 and 92.1, respectively.
Pujols also has a reputation for crushing left-handed pitchers, with a career wOBA of .453 against southpaws. This year it's .414. That's great for mortals, but not for Prince Albert.
These three observations all contribute to the overarching problem, a lower wOBA. But the investigation does not have to stop there. Additional data exists, specifically MLBAM's Pitch f/x data, which can be analyzed to look for an explanation for these problems. The following graph plots Pujols' wOBA on pitches that he makes contact with (wOBAc) for various pitch heights.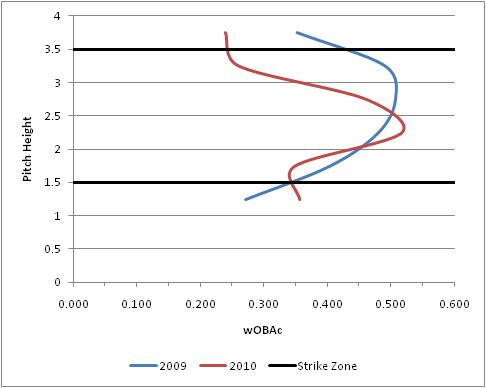 This graph shows Pujols being much less productive on pitches near the top of the zone when compared to 2009. However, on pitches near the bottom of the zone, there is little difference. And on pitches roughly two feet high, Pujols is actually performing better than he did last season. When we look closer at the pitches at the top of the zone, we can see where Albert is going wrong.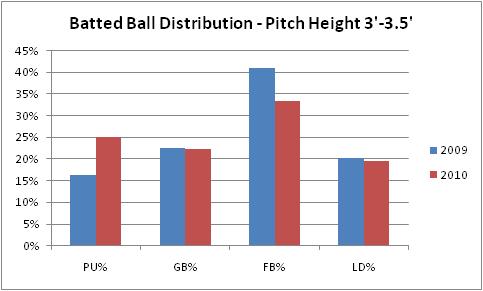 On pitches that are three to three-and-a-half feet high, Pujols is hitting a lot more pop-ups and a lot fewer outfield fly balls. However, as you'll notice, his ground ball and line drive rates are almost identical on pitches in that range. Does this suggest an overarching problem? Probably not. It's likely that Pujols is "just missing" these high pitches, and some of these pop-ups will become fly balls and those flies will become home runs and Cardinal fans won't have to "worry" about Pujols for much longer. Until then, infielders playing against St. Louis will be seeing a lot more infield flies.
Steve Sommer is a writer for Beyond the Box Score.