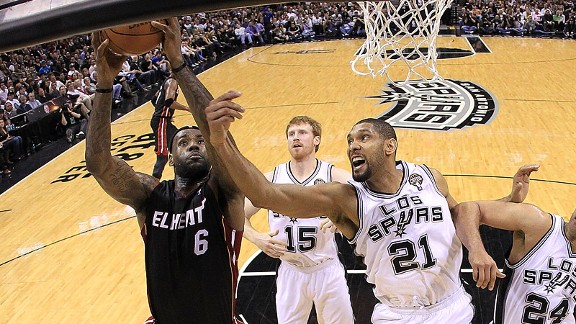 Ronald Martinez/Getty Images
Will LeBron James and Tim Duncan go down as the best at their position? Let's debate.
In another installment of the Heat Index's 3-on-3 series, our writers give their takes on the storylines before the Heat host the Spurs on Thursday and aim to improve to 11-3.
1. Over/Under: 1.5, the number of West teams more likely to reach Finals than Spurs.
Tom Haberstroh: Under. But it's almost impossible to separate the West's top five teams at this point. Oklahoma City might have the inside track, but San Antonio is right there behind it. As John Hollinger noted today, the Spurs still have another gear or two left in them.

Michael Wallace: Over. But just barely. I'm going with two teams that would stack up pretty well against the Spurs: Oklahoma City and Memphis. After all, those were the foes that knocked the Spurs out of the playoffs each of the past two seasons. Granted, the Thunder did trade Spurs nemesis James Harden, and Memphis won't necessarily sneak up on anyone this time around. But it's something about the matchups with those two teams that simply throws the Spurs off kilter.
Brian Windhorst: Under. Memphis has been so impressive and the Lakers, despite their terrible start, have talent that must be respected. With the Spurs it will probably depend on health. No team plays better together or has the same level of playoff experience in the West as they do. It's probably Oklahoma City and then the Spurs in the "most likely" category.
---
2. Fact or Fiction: LeBron and Duncan will one day be known as the best ever at their position.
Haberstroh: Fact. I'm always uneasy about positional rankings because positions are so fluid by nature, but I'll bite. Barring something catastrophic that happens to LeBron, I think he's well on his way to passing Larry Bird as the best small forward of all time. LeBron has the upper hand in PER through their ninth season and that doesn't even cover the defensive end of the floor. As for the ring count? If James continues to be surrounded with Hall of Famers like Bird was, I think James will easily pass the three-title plateau that Bird reached. Duncan? Yes, best power forward ever.
Wallace: Fact. Duncan is already there, and LeBron is well on his way. That said, it would likely require at least two more championships for LeBron to put the debate to rest for many. He's already got the MVPs and the career averages necessary. But I'm sure there are some Bird die-hards out there who would beg to differ if LeBron doesn't match Larry Legend's ring count.
Windhorst: Fact. Well, this is a conversation starter. How long could you get Bill Simmons to write on the merits of a Larry Bird-versus-LeBron debate on who is the better small forward? You'd also have some Julius Erving fans chiming in. From this corner, I say James is already the greatest small forward to play the game because of his ability to dominate at both ends. A case could be made the Duncan is the best of all time and arrived there awhile ago. But it would a longer debate there with the likes of Karl Malone in the discussion. Also, Duncan has played quite a lot of his career at center. But it is a fun topic.
---
3. Fact or Fiction: Ginobili's Eurostep is more deadly than Wade's.
Haberstroh: Fiction. I'll give Manu Ginobili the lifetime achievement award but if we're talking most dizzying Eurostep right now, I'll give it to Wade, whose legs are five years younger than Ginobili's. Man, it feels wrong to snub Ginobili here. I'm worried he might Eurostep me in the hallway if I see him tonight.
Wallace: Fact. When asked this very question, LeBron seemed to give the slight nod to Ginobili "because he's the Euro guy, he's European." LeBron's geographical blunder aside, the Argentina native has been stepping through and dodging NBA defenders with lethal precision for a decade with the Spurs. But if we're talking Euro-specific, I'm going with the late sharp-shooting Drazen Petrovic, who also had a deceptively quick drive to the basket.
Windhorst: Fact. On his good days, Wade is more explosive than Ginobili. But when guarding Manu you have to respect his world-class step-back jumper in addition to the drive. It can sometimes put defenders in position where the Eurostep is more effective. Wade is not as good a shooter as Ginobili but, of course, he's no easy cover either.