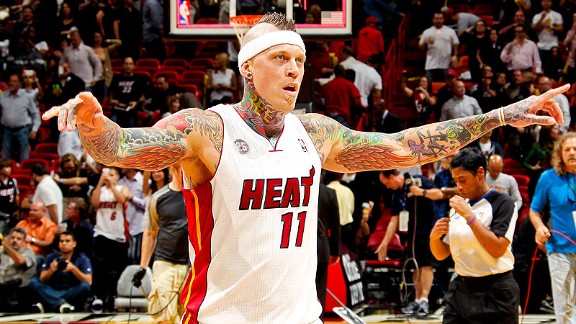 Issac Baldizon/NBAE/Getty Images
After just five games, the man they call "Birdman" is already paying dividends for the Heat.
MIAMI -- Chris Andersen is not your usual NBA player. Neither is his offseason conditioning regimen.
What was his secret to staying in shape after nine months away from the game?
Fried rice.
Seriously.
"It was mainly my future mother-in-law's fried rice," Andersen said after Wednesday morning's shootaround.
"Listen, I'm telling you. She's from Taiwan. She makes some legit fried rice. It's not like the fried rice you can pick up from P.F. Chang's or something like that. This is legitimate, healthy ..."
And then a long pause.
"Man, it's awesome."
Whatever Andersen did in the offseason, it's working. The 34-year-old -- who is known as "Birdman" but introduces himself to others as simply "Bird" -- is already playing big-time minutes off the bench for the defending champions. It's a big change considering just three weeks ago Andersen was unemployed, gobbling up fried rice and looking for his next NBA opportunity.
If he wasn't in shape then, he is now.
"I was in 'around around the waist' shape, but now I'm in 'six-pack abs around the waist' shape," Andersen said. "My knee surgery didn't allow me to run mountains or the basketball five-on-five thing at the rec center, or stuff like that."
Andersen underwent arthroscopic surgery on his right knee in July, but you wouldn't be able to notice any rust from the time off. He logged a season-high 15 minutes in Miami's game against the Charlotte Bobcats on Monday and finished with four points and six rebounds. It took only five games before the new signee replaced Joel Anthony in the Heat's rotation. Already, Andersen looks like Miami's best big man outside of LeBron James or Chris Bosh.
Heat head coach Erik Spoelstra insists that he's not playing Andersen 12-15 minutes a night just to help get him into playing shape.
"I'm not trying to condition him," Spoelstra said. "I'm playing him because he's helping us."
Spoelstra likes what he's seen so far. The hustle plays. The rebounds from out of nowhere. The coast-to-coast drives. That's not stuff that you're seeing from Udonis Haslem and Anthony. And you'll never see Andersen take a play off.
"He doesn't save anything," Spoelstra said. "He doesn't pace himself. He'll play until his tank is absolutely empty. Or until he passes out."
Spoelstra admitted that he initially wasn't planning to play Andersen until after the All-Star break. The coach wasn't sure how long it would take for Andersen to get conditioned and comfortable in the Heat's schemes. Those concerns are obviously gone now, but Spoelstra expects Andersen to need another six to eight weeks before he's in top shape.
But the thing that has intrigued Spoelstra the most is what he calls the "vertical spacing" that Andersen brings. The idea: Throw the ball up in the air and let Andersen catch it for an easy bucket. Bosh is usually out on the perimeter. Haslem doesn't have the legs or the height to pull that off consistently. Anthony doesn't have the hands to make it worthwhile. But Andersen has that promise.
At Wednesday's shootaround, Spoelstra as well as James, Dwyane Wade, Mario Chalmers and even Ray Allen drilled the lob pass to Andersen over and over. It's what Spoelstra fears the most when playing against athletic big men like Tyson Chandler and Dwight Howard. Now, he's trying it out with Andersen.
"We haven't had that element before other than Dwyane and LeBron in the fast break," Spoelstra said. "Guys are starting to see it now, but the play is there."
James unsuccessfully tried the pick-and-lob play with Andersen in Monday's game against the Bobcats. After Andersen screened James' man at the top of the key, the big man rolled toward the rim, watching James intently while James tossed the ball up toward the rim. Andersen went up to flush it home, only James' lob actually hit the back of the rim.
James, who was working on a near-perfect night from the floor, was credited with a turnover instead of a missed shot. Yes, they'll need some time to work out the kinks. That process started Wednesday morning.
"Working on it in practice and working on it in games is going to be completely different," Andersen said. "We tried one in the last game but it was off a little bit, but we're trying to build that connection."
Andersen's still getting used to playing with a talent like James. One time in the first quarter against Charlotte, James drove baseline and threw an underhanded bullet-pass to Andersen who was barreling down the lane. Andersen didn't even get a hand on it; it came that quickly.
"I mean, that was a rocket," Andersen said, recalling the play. "I was coming to the ball almost full speed and I was like, 'Holy smokes.' He's so capable of passing that you would not even expect some of these passes. It's something that I have to get used to. Slowly but surely, we'll get there."
In a little over a full game's worth of action (52 minutes), Andersen has registered 20 points, 19 rebounds, two blocks and two steals. If he keeps his fouls down to a manageable level (he's already been whistled a whopping 12 times), he'll be a big part of the Heat's quest to repeat. Andersen is still working on his second 10-day contract, but signing him for the rest of the season is a mere formality at this point.
If he keeps up his strong play, there might even be a starting job in his future. When Spoelstra was asked whether he could see Andersen eventually starting for the team down the road, the coach said he prefers Andersen coming off the bench.
At least for the time being.
"Right now," Spoelstra said," I like it."