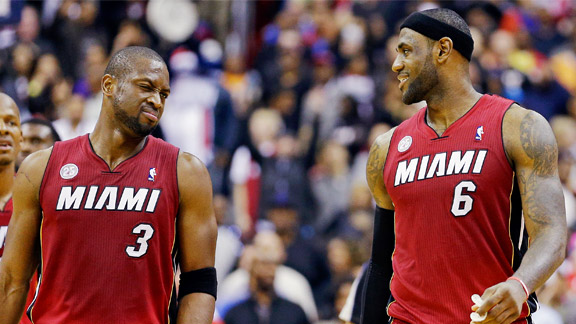 Rob Carr/Getty Images
Former scoring champs Dwyane Wade and LeBron James aren't sweating racking up points per game.MIAMI -- Will efficiency ever hold more prestige within the game than points per game?
It's a fair question these days, with Carmelo Anthony and Kevin Durant duking it out for the NBA's scoring title while two stars sit in the front row with a watchful eye. LeBron James and Dwyane Wade have each worn the scoring title belt before (in 2007-08 and 2008-09, respectively) and yes, they're paying close attention.
But that doesn't mean they necessarily want to get into that ring.
"Nope," James said when asked over the weekend if he feels jealous of Anthony and Durant. "It's fun to see how close they are and I'm looking forward to see how it shakes out. But me being a part of it? Nah, not really. That's not who I am."
And Wade?
"It didn't mean nothing," Wade said of his scoring title. "It was cool to do it once, to say, 'I led the league in scoring.' But after I was done with the media, it was over with. Nobody talked about it anymore. The playoffs lived on."
Been there, done that.
This was James and Wade's sacrifice when they joined forces in the summer of 2010 along with Chris Bosh, who averaged 24 points per game the season before, in 2009-10. Gone were the days when they could fire up as many shots as pleased with little repercussion. If they wanted a title, forget about the scoring one.
Back in December, when James was asked about the prospects of winning the scoring title, he shrugged his shoulders and said, "I could do it if I wanted to." Earlier that day, Heat coach Erik Spoelstra claimed James could realistically score 37 points a game if he played on another team and wasn't such a skilled and willing passer.
But for James and Wade, efficiency has replaced points per game on their priority list. Less shot-taking, more shot-making.
James has converted an impressive 56.5 percent of his shots from the field. Wade, who is shooting a career-high 51.9 percent from the floor on fewer field goal attempts than Klay Thompson, bears a love-hate relationship with his shooting percentages.
"I hate that I really value efficiency," Wade said. "Because I look around the league sometimes and I see a guy shooting 41, 42 percent from the field and I'm like, 'Wow, they're just hoisting up shots and they don't care.' I guess that's that freedom, but I don't have that mindset. I want to be as efficient as possible."
Wade has a point. Of the 13 players that shoot more field goal attempts per game than Wade, seven of them shoot lower than 45 percent from the floor -- including Anthony, who leads the league in scoring and field goal attempts with 22.2 per game. It would feel odd if Anthony would be labeled the "scoring champion" this season despite having a far less efficient campaign than James, Wade or Durant, who's in the exclusive 50-40-90 shooting percentage club.
Ultimately, James and Wade hold each other back from vying for the scoring title. Both in their primes, James and Wade have their lowest usage rates since their first few seasons in the league. James' average of 17.8 field goal attempts per game is also the lowest of his career. Wade averaged 22 field goal attempts the season he won the scoring title -- the same as Anthony this season – but Wade has shot that many in just four of his 68 games this season.
Don't believe that Wade could still contend for the scoring title if given more "freedom" as he puts it? Consider this: With James off the court, Wade has scored 27.0 points per 36 minutes this season, according to NBA.com/stats. That would be the highest scoring rate in the league outside of Anthony. And that's while sharing the ball with Bosh, too.
But with James on the floor, Wade's per-36-minute scoring average plummets to just 20.8 points. Wade still shoots above 50 percent (50.4 percent to be exact) without James on the floor, which in other words means Wade isn't abusing his freedom to shoot more. He remains one of the best scorers in the game.
James, meanwhile, has scored 29.8 points per 36 minutes this season with Wade on the bench. James, too, has learned to adjust to his star-studded surroundings, which now include fellow future Hall of Famer Ray Allen. And James is holding a greater appreciation for efficiency and the advanced stats that shed light on the subtle cost-benefit analysis of shooting.
"I'm taking every shot very seriously," James said after Sunday's win over Chicago. "I'm getting to my spots, not allowing the defense to determine what I wanted to do. I want to be as close to perfect as possible."
As a result, James leads the NBA in field goals made (765) despite shooting 135 fewer field goal attempts than Anthony and 63 fewer field goal attempts than Durant. That's before we mention that the league-leader in field goal attempts, Kobe Bryant, has 241 more shots to his name this season than James.
Until Sunday, James hadn't known he's likely to make more field goals than any other player this season.
"League leader in field goals made? I don't even shoot that much," James said before cracking a smile. "That's pretty cool. I like that stat."
No scoring title for James this season, but when he was asked what stat he's most proud of, James replied with just six words.
"How many team wins we got?"
Efficient response.