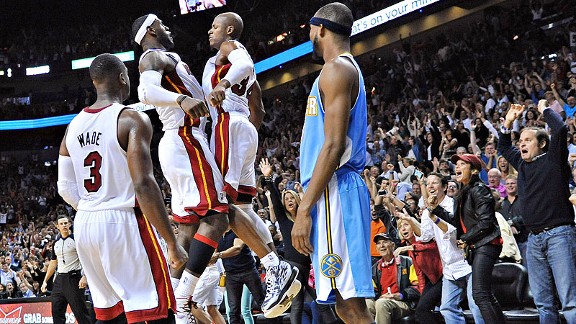 Steve Mitchell/US Presswire
LeBron James and Ray Allen have been on the winning side of every close game this season. Why?
MIAMI -- Remember the pass that LeBron James made to Udonis Haslem in the closing seconds against Utah in March of last season? The one that didn't end up going the Heat's way?
Ray Allen brought up that play after Saturday's win over the Cleveland Cavaliers, a game that ended with James passing to Allen for the game-winning 3-pointer. Haslem missed that controversial shot last March and the Heat ended up losing the game.
But after Saturday's win, Allen said he and his former Celtics teammates agreed with James' decision to pass.
"And he got criticized over it," Allen said. "People were talking about, 'Should he have made that pass?' Everybody where I was [in Boston], we all said he made the right play. That was the play, if you had it again, you make that play again. That's what being a team is. You rely on your guys."
That play keeps up coming up in the Heat locker room these days, because James is still making that play. But now it's netting winning results. In fact, going by the NBA's definition of "clutch" -- when the score is within five points in the final five minutes -- the Heat haven't been beaten. Miami is 8-0 in games that go into the clutch this season, the only unbeaten team left in such situations.
The question is: How are they doing it? The short answer: by playing nothing like they did two seasons ago.