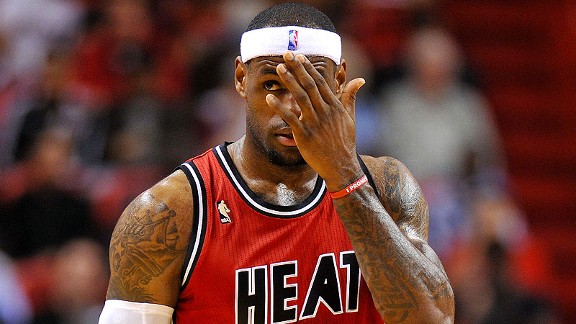 Steve Mitchell/USA TODAY Sports
Take a peek at the data provided by SportVU and you'll see the Heat in a whole new way.It was Houston Rockets GM Daryl Morey who once said, "Someone created the box score, and he should be shot."
The numbers used in the everyday box score, the stats-driven exec of Miami's next opponent points out, are measurable but not particularly meaningful.
A box score tracks blocks but doesn't care whether they're recovered. It tracks shot attempts but not touches. It tracks assists on made shots but not assists on free throws or passes that led to good shots. It tracks offensive rebounds for big men but not screens that lead to equally important scoring opportunities.
For years, Morey has searched for new sources of data outside the box score to gain an edge. One of those sources is SportVU, the new 3-D camera system from STATS LLC that tracks every movement on the court. Fifteen teams subscribe to this analytical gold mine and -- surprise, surprise -- the Rockets were one of the first to jump on board.
SportVU can tell you how many touches each player gets in every game, how long he possesses the ball and how many dribbles and passes he makes. It can inform us how fast a player ran on average during a game, how far he ran and how often he jogged rather than sprinted down the floor.
And that's just the beginning.
The Heat have not yet subscribed to SportVU, but they have played in nine road games with SportVU cameras installed (small sample size alert!). What does SportVU say about the defending champs in these games?