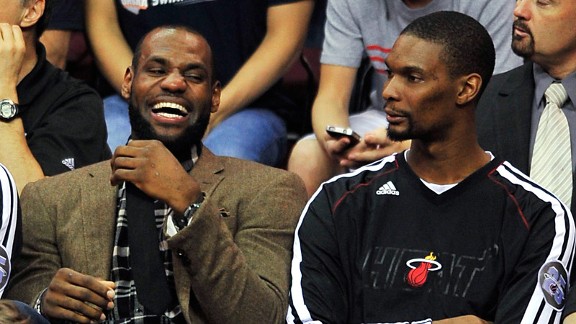 David Richard/USA TODAY Sports
LeBron James got to spend plenty of time watching. Now he's rested and ready for the playoffs.MIAMI -- The Miami Heat have never been this good.
In the 2012-13 season, they won a franchise-high 66 wins, rolling to the finish line with an absurd 37-2 record in their last 39 games. They earned the top overall seed with a six-game lead on the Oklahoma City Thunder and a 12-game lead on the New York Knicks in the Eastern Conference.
And the scary thing is that, in all likelihood, their best has yet to come.
Here are three reasons why:
1. LeBron James is fresh for the first time in years.
James has endured one of the most grueling stretches in NBA history. He didn't know it at the time, but earlier this season, Dec. 18 marked the one-year anniversary of the Heat's first preseason game after the lockout. Over those 365 days, James played a baffling 129 games -- the 2011-12 preseason, regular season and playoffs, Team USA exhibitions, the Olympics and the 2012-13 preseason and regular season.
On average, that's one game every three days for an entire calendar year with travel and practices in between. After all that, he managed to become the first player ever to average 26 points, eight rebounds and seven assists and shoot above 55 percent from the floor. His 31.6 PER was the sixth highest on record, according to Basketball Reference.
So you could see why Erik Spoelstra played James in only four of the team's last 10 games of the regular season and granted him a mini-vacation at home in Akron, Ohio, just ahead of the playoffs. After arriving in Ohio on Sunday night for Monday's Cleveland game, James stayed in his hometown for four days. It gave James an opportunity to catch up with family and friends, but mostly to catch his breath.
"The break that I was able to get over the past couple weeks allowed me to miss the game again," James said. "And that's what I needed. I'm excited. I got an opportunity to get away from the game, not play it as much as I'm accustomed to down the stretch."
What's next for James? Even Pat Riley doesn't know. Speaking at a rare news conference, Riley said James is no longer burdened by the lack of a championship ring.
"It's really freed him to take it to another level, whatever that level is," Riley said. "We may not have seen it."
First James lacked a title. Then he needed rest. Now he's got both.
2. Spoelstra has kept his championship starting lineup in his back pocket.
The Heat are 22-1 since Feb. 3 with Udonis Haslem and Mario Chalmers in the starting lineup next to James, Dwyane Wade and Chris Bosh. So it might seem a bit irrational that Spoelstra would mess with a winning formula. Why switch up his starting lineup for the playoffs? After all, if it ain't broke, don't fix it, right?
Well, the Heat don't exactly subscribe to that philosophy. After Bosh went down with an abdominal strain in the playoffs last season, Spoelstra went small and liked what he saw enough to ride an unconventional starting lineup, featuring Shane Battier at the nominal 4 in place of Haslem, and it led to a championship.
That lineup hasn't started a game together since Feb. 14, but don't be surprised if Spoelstra dusts it off soon. In the regular season, the stretchy lineup with Battier and Chalmers next to the Big Three has played 300 minutes and outscored opponents by a whopping 19.6 points per 100 possessions, according to NBA.com/stats. It's been so good that it ranks as the highest point differential league-wide among lineups that have played as many minutes. By comparison, the Haslem lineup has outscored opponents by "only" 11.9 points every 100 possessions.
Spoelstra regularly pores over the plus-minus numbers, so he knows how dominant the championship-winning lineup can be. But he has stayed typically coy about who he'll start Sunday. It's true that who starts doesn't matter as much as who finishes, but it's telling that he isn't resigned to sticking with the status quo.
"It could change game to game. It could change during the course of any point in the playoffs based on need," Spoelstra said of his lineups. "We won't hesitate."
Would Battier start against the Bucks on Sunday? He wasn't so sure.
"I don't know, we'll see," Battier said. "It's pretty fluid. I'm as anxious as you guys to see what happens."
3. The suffocating defense is rounding into form.
Somehow Spoelstra still isn't satisfied with the Heat's play this season, despite losing just two games since the Super Bowl on Feb. 3. When asked what he hopes to see improve going forward, he didn't take a second before blurting out an answer.
"Defense," Spoelstra said. "We hope we can take it to another level. We've been playing much better the last three months, but we have another level in us defensively, a championship-level, that we haven't approached."
The Heat rank as the best offense in the league, but they finished the season with the seventh-best defensive efficiency in the league, surrendering 100.5 points per 100 possessions to the opponent. That's not where Spoelstra and Riley wanted it, but after a slow start, they've been the fourth-best defense in the NBA since the All-Star break behind Oklahoma City, Indiana and Memphis.
For a team that preaches having a defensive identity, it still has more work to do, despite its season-long improvement on that end.
"Defensively, we need to be more in tune," James said. "Because it's the postseason, every possession matters. Every breakdown is magnified."
One reason why the Heat's defense has gotten stingier this season is the arrival of hyperactive Chris Andersen, whom the Heat picked up off the scrap heap. When he was on the floor this season, opponents scored just 97.3 points per 100 possessions, which was the best on-court defensive rating for any Heat rotation player this season. As if the Heat needed more help, they found a rim-protector in Andersen who could also play above the rim on the other end of the floor. Yes, the rich get richer.