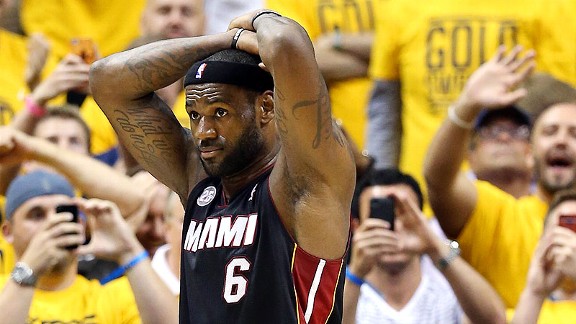 Andy Lyons/Getty Images
After dominating crunch time in the regular season, the Heat have gone cold in the playoffs.
With 5:00 left in the game, and the Miami Heat up by three points, George Hill caught the ball on the left wing and ran a pick-and-roll with Roy Hibbert. As the Heat defense swarmed Hill, the point guard sent a pocket pass to the rolling Hibbert, who then dumped the ball to David West at the rim. West rose up for a layup and got fouled by Dwyane Wade.
And thus started the Heat's latest debacle in clutch situations.
The advanced stats database at NBA.com defines clutch situations as any occasion when the score is within five points in the final five minutes of the game. After the Wade foul call with 4:54 left, the Heat subsequently blew the lead and Game 4.
Here are the gory details of the Heat's performance in clutch time Tuesday night:
The Heat shot 1-for-7 from the floor while allowing the Pacers to shoot 4-for-8. The Heat's only basket was a contested 3-pointer early in the shot clock from LeBron James.