Category archive:

Auburn Tigers
August, 12, 2011
08/12/11
10:37
AM ET

Early this spring my friend Joe Tessitore left me a voicemail about an idea he wanted to talk to me about.
I'd gotten to know Joe over the previous few years, not only for his work calling the Friday night football games on ESPN with Rod Gilmore but also for his work covering boxing and via "Fight Night," my favorite video game. Joe is as passionate about sports, his job and his role as a storyteller as anyone I've ever come across. The other thing I'd always admired was that Joe got things done. For example, a year earlier he told me about this Heismanology idea he had. A few months later it was a fixture in the network's coverage. It's one thing to be an idea guy. It's another to be someone who can execute those ideas. I knew if Joe was really fired up about something, it was definitely worth considering.
When Joe and I finally got on the phone, it took him less than 30 seconds to sell me on a vision for a project he had. It was a film about the Alabama Crimson Tide-Auburn Tigers rivalry, about how the great divide in the Heart of Dixie has essentially grown to engulf college football the past two seasons -- with several bizarre twists and turns along the way. Listening to him, I immediately thought back to a few weeks earlier, when I sat on my couch, riveted to each update on my Twitter feed as college football writers and thousands of die-hard fans simultaneously listened -- and reacted incredulously -- to the ranting of Bama fan Harvey Updyke on the Paul Finebaum Show about the poisoning of the Toomer's Corner trees.
Back when I was more of a magazine writer, I always coveted story projects that could make the reader say "Holy [expletive]" out loud as they were reading. This had that capacity and then some.
Joe sent me some ideas for the documentary structure. I sent him back a four-act outline with a story arc and details, some of which I had in the back of my mind from having worked on a feature about the Alabama-Auburn rivalry 15 years earlier.
We both were convinced Finebaum's radio show had to be a big component to the way this story should be told, given the way the program stokes this rivalry's fire 365 days a year.
But as we were trading ideas, the story down in Alabama took a stunning turn. On April 27, the same day I'd sent Joe my outline, tragedy struck. Some of the most powerful tornadoes in the state's history ripped through Alabama, devastating Tuscaloosa. Football didn't seem so important anymore. Instead of the dispatches you got from the Deep South about the twists and turns of the Alabama-Auburn rivalry, we were hearing about the magnitude of the destruction that rocked an area as proud and passionate as any part of our country.
In keeping tabs on the news down South, you couldn't help but feel for everyone down there. We knew from all the time we'd spent chatting with people over the years and for this project that the Alabama-Auburn rivalry was about a whole lot more than football down there. Then, in the wake of the tragedy, the pride and the passion and the shared history that has fueled the most venomous rivalry in sports manifested itself in a different fashion. Relief efforts such as Toomer's for Tuscaloosa were formed and sprang into action (there was also the "Bama Rising" concert that came together with the help of a group of country music stars).
A different fourth act, a more powerful, more meaningful one, began to surface.
Still, we figured getting the ESPN execs to bite on this project would be a bigger challenge than mapping out the story. Joe's agent, Nick, had a couple of clients who produced films as part of ESPN's 30 for 30 series and got us a date to pitch our project in New York for May 18.
Joe and I kept bouncing back and forth ideas and doing our own research. In early May, he came out in Southern California for one of the "Friday Night Fight" cards. We had a brunch meeting at a cafe three blocks off the sand in Manhattan Beach that lasted four hours. The brainstorming session was a blast. We sat there with our laptops, revising the outlines that we had each worked up.
• How much of the history do you capture?
"We have to talk about the 1926 Rose Bowl, when the Bama team upset Washington in the game that put Southern football on the map."
"And what about the Crimson Tide's Tommy Lewis coming off the bench to tackle Rice's Dickey Moegle in the '54 Cotton Bowl, explaining it as being 'too full of Bama?'"
"We have to talk about Punt, Bama, Punt. too."
• This needs to be more than just football-specific stuff. It must have gravitas.
[+] Enlarge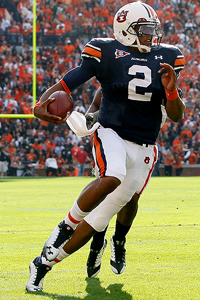 Kevin C. Cox/Getty ImagesCam Newton was in the middle of the action last season in the Auburn-Alabama rivalry.
We focused on every detail of the past two crazy years we can think of: Bama overtakes Florida. Ingram wins the Heisman. Bama beats Texas. The Crimson Tide is the favorite to repeat in 2010. Cam takes over at Auburn. The Cecil Newton scandal breaks. The NCAA investigates. "Scam Newton," as Bama fans call him, leads the Tigers to the biggest comeback in Auburn history in the Iron Bowl. He wins the Heisman. His father is barred from attending. Auburn wins the BCS. His father is barred from attending. Updyke calls into Finebaum's show taking credit for poisoning Toomer's Corner. Updyke does another hour on Finebaum's show after his court appearance. More chaos.
We examined our list of people to drive the narrative:
"We need to reach out to Finebaum."
"We gotta get Cam. Have to."
"I think we can get Bo Jackson to sit down with us."
"What about Mark Ingram and Greg McElroy? They're great talkers. And Shaun Alexander! Also, [Joe] Namath and [Ken] Stabler."
"I want famed magazine writer and Alabama grad Gay Talese in this."
"I think we need to get Charles Barkley."
"How about Robert Gibbs from the White House? He is a huge Auburn guy."
"Bill Curry is a great storyteller. Put him down. Same with [Pat] Dye and [Gene] Stallings."
"We gotta get Terry Henley [the early 70s Auburn star] since he's the guy most Tiger historians credit for launching the Toomer's Corner tradition."
"We probably should try and get Updyke in this ..."
I Googled photos of Updyke and came across a shot of the 62-year-old former Texas state trooper lingering, hands in pockets, a few feet away from a crowd of fellow Crimson Tide fans. Harvey has one of these stuffed-animal elephant-head hats on with the tusks flared out and a 6-inch-long trunk pointing straight up in the air above his face. He's wearing a crimson and white 1950s letterman-style coat with patches representing each Bama national title running up the sleeve.
Wow.
In whose voice do you tell this story since it has two such distinctive sides?
The evening before I flew east for the meeting with ESPN Films, Joe and I orchestrated our pitch. We scripted the whole thing, and even did a little rehearsal over the phone for an hour two days before. He starts with parts A and B. I take over for C and D. We have 17 talking points we want to hit on.
The tricky part of any pitch is that you've become so versed in the subject matter, so enamored with much of it, someone from the outside could get lost in the details. We both worried about how accessible this story would be to someone based in New York City, who may never have heard of Finebaum's show. I've been a regular on Finebaum's show for a few years now. I've even read a book about the show and its callers that his producer Pat Smith once sent. Joe may be even further down the rabbit hole than me. He listens to the show every day. I think he knows which city each regular calls from.
As it turned out, the pitch couldn't have gone much better: You think Red Sox-Yankees or Duke-UNC is a heated rivalry? You have no idea. Wait until you hear about Alabama-Auburn.
We proceeded to delve into the most venomous rivalry in sports and how it had become ground zero for college football fans for essentially the previous 500 days. Two BCS titles. Two Heisman Trophy winners. Two classic Iron Bowl games for the ages. One epic story about an on-going NCAA investigation that surrounded Auburn's superstar quarterback Cam Newton and his father, Cecil. Hours before kickoff, when Cam and his teammates walked out onto the field in Tuscaloosa for warm-ups, they were greeted by the Alabama PA system blaring the song "Take the Money and Run," while the Crimson Tide student section showered the Tigers with Monopoly money. Newton's response? He carried the Tigers to the biggest comeback win in their school's history.
Then, there's Updyke, aka Al from Dadeville, calling into Finebaum's show to claim credit for poisoning the trees at Toomer's Corner with some herbicide almost no one had ever heard of. Turns out, Updyke wasn't kidding. The towering oaks were in fact poisoned and are dying. Then, a few months later, Alabama was devastated by one of the worst series of tornadoes to ever hit the state. The Tuscaloosa area was devastated. But as the people of the state tried to get back on their feet, it was the Auburn fans reaching out to help their archrivals across the state that perhaps underscores best the passion of what has made this rivalry so unique. This is a "Now" story and illustrates the connectivity we now have in college football, thanks to national television coverage, the Internet and social media. Things are no longer regionally limited.
That meeting in NYC prompted another one with more folks from ESPN Films a week later. The ESPN Films guys have now gotten up to speed on Finebaum Nation, and they're fascinated. We had another conference call. This time it was with other ESPN Films execs and a few creative types. They were peppering us with questions, answers to which we had already come up with in the month prior. Yes, Cam Newton was at a Texas junior college when Bama was on its way to the 2009 title. Yes, Updyke called in to the Finebaum show and admitted to poisoning the trees then hung up saying "Roll Damn Tide!" It felt as if they were a few steps behind us, trudging up a hill overlooking this spectacular vista that gets more exhilarating with each stride up.
The execs were now as hooked as we had been. But they explained how the filmmaking process works, how pitches are not usually green-lit on this kind of a quick turnaround. Then the moment came: "We are going to go forward with your film and we are going to start production ASAP."
They sound as excited as we are. It'll be an hour-long movie, slotted for early November. We'd gone from a vision that hadn't been put to paper to becoming executive producers in a very, very short time. ESPN wants Martin Khodabakhshian, a producer/director who has won nine Emmys, to work with us. I'd seen a lot of Martin's work. The piece he did on fear with Stephen King was still fresh in my mind, as was the E:60 feature he did with my friend Wright Thompson on Noodling.
Joe and I flew to Birmingham, Ala., on Memorial Day. We had a three-way call with Martin about the project and he conjured up some compelling visual concepts to help tell the story.
The next day, Joe and I were in Finebaum's studio. We hadn't told him about the project. I was on with Paul, talking to callers about college football all afternoon. In the breaks, Paul and his staff talked to us not only about the day of the devastation but about so many of the efforts and so much of the compassion that followed.
Finebaum's studio is not what I had expected it to look like. Most radio studios are like soundproofed basements. There are no windows to look out, nothing to see. Just some digital clocks, a few computer screens and maybe a TV.
Between the 10 feet or so between Finebaum and me in his studio was a huge picture window that overlooks the state, taking up most of the wall behind us. Since the studio is high up on a hill, you could probably see some 20 miles out. The viewpoint is fitting. When Finebaum left the studio for a moment, one of Paul's staffers explained to us how involved Finebaum has been in the relief effort.
That night at Highlands, an upscale local restaurant, we explained our vision to Paul. Joe brought up the timeline of when the tornadoes swept through, pointing out what had been a wild week for national news teams. Many TV crews had trekked to England for the Royal Wedding a week out, then President Barack Obama released his birth certificate on the same day the tornadoes hit Alabama, then less than two days later, the Royal Wedding dominated the headlines. Two days after that, news of the killing of Osama bin Laden broke. Finebaum agreed with the notion that many people outside of the state moved on from the tragedies very quickly.
Finebaum was sold on the project. That same week, we scrambled to land our first interview: Harvey Updyke. News about a possible gag order means if we're going to sit down with Updyke on camera, we'd better do it ASAP. Wright Thompson, who visited with Updyke in the spring also was working on a Toomer's Corner story for ESPN The Magazine's college preview issue, offered to assist in any way he could. Both Finebaum and Thompson provided us with an entry point for Updyke. Martin hopped on the next plane south and spent hours with the most infamous Bama fan in the country.
Just like that, we were shoulder deep in the film project. That was about 10 weeks ago. Since then, we have had shoots all over the state of Alabama, in Atlanta, in Chicago, in New York, in L.A., in Bristol, Conn., and in Philly. The material Joe and I first mapped out has proven to be a lot more powerful, colorful and meaningful than we'd ever expected. Martin has added some brilliant touches.
Now we're back in Alabama. Friday, we'll be on Finebaum's show talking about "Roll Tide, War Eagle." The stars of the show are as much the callers as it is Paul Finebaum.
The schools couldn't have been more receptive, but in the end we know the pulse of this story is going to be provided by the people of the state of Alabama. Finebaum's people. Now it is their turn. The last days of production shoots. A chance for them to call in with film rolling all day at Paul's studio.
We want to hear what they think of their story -- of a shared history and the story of Bear and Broadway Joe and Bo Over the Top and Terry Henley. What was the most significant Iron Bowl ever? Do Bama folks really look down at Auburn? How much did Cam Newton and the controversy around his father pour gas on the fire? What should happen with Updyke? What do the trees really mean to Auburn people? What does "War Eagle" really mean? How did the tragedy of April 27 affect the state? And perhaps, most importantly, why does football mean so much more here in Alabama than in other places?
We can't wait to hear what they have to say.