Phil Steele Week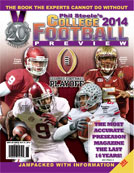 Get access to Phil Steele's football analysis and find his 2014 preview magazine at PhilSteele.com.
• Projecting Top 25 teams
• Preseason Top 5: FSU No. 1
• Top QBs | RBs
• Top 10 Heisman candidates
• Top 10 surprise teams for 2014
• Most improved teams for 2014
• Ranking every conference in CFB
Editor's note: This article was adapted from Phil Steele's college football preview magazine, which is available here.
When ranking the top individual position units for my 2014 preview magazine, I took into consideration the talent level and production of the starters and also the overall depth of the unit.
There is no position group I rank where the starter has more influence on my overall rankings than at quarterback. For most teams, the starting quarterback takes roughly 90-95 percent of the snaps, while other positions have multiple players on the field at the same time and split the reps more evenly.
With that in mind, here is how I rank the top 15 QB depth charts in the country for the 2014 season.
(Author's note: If you are unfamiliar with some of my abbreviations I use below, the "PS" number assigned for each player stands for where I ranked that particular player at his position coming out of high school.)
---

Jameis Winston had a spectacular redshirt freshman season, throwing for 4,057 yards, with a 67 percent completion rate and a 40-10 touchdown-to-interception ratio. He also rushed for 219 yards while taking home the Heisman Trophy. Oh, by the way, he also guided the Seminoles to a BCS title. He may be the first quarterback taken in the 2015 NFL draft if he opts to come out. His backup Sean Maguire (PS No. 42) understands the playbook and got some playing time last year, while John Franklin (PS No. 66) and true freshman JJ Cosentino (PS No. 19) are both mobile.
---

We saw last year how much Marcus Mariota means to the potent Ducks offense. When he was banged up and not seen as a run threat, the offense bogged down, especially in Oregon's loss to Arizona. He was healthy again in time for the bowl game, and ran for a season-high 133 yards. In his two years he has thrown for 6,342 yards, completed 66 percent of his passes and has a 63-10 TD-INT ratio while rushing for 1,467 yards. He will certainly battle Winston for not only the Heisman this year, but also being the top pick in the 2015 NFL draft. His backup his Jeff Lockie (PS No. 70), who played in nine games in 2013.
---