Editor's note: This article was adapted from Phil Steele's college football preview magazine, which is available here.
Phil Steele Week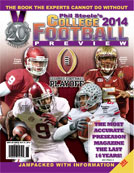 Get access to Phil Steele's football analysis and find his 2014 preview magazine at PhilSteele.com.
• Projecting Top 25 teams
• Preseason Top 5: FSU No. 1
• Top QBs | RBs
• Top 10 Heisman candidates
• Top 10 surprise teams for 2014
• Most improved teams for 2014
• Ranking every conference in CFB
You might think that Cinderella stories are a one-time thing, but during the past 15 seasons, there have been major surprises at the top of the college football world almost every year: Ohio State in 2002, LSU in 2003 and Auburn in 2010 were all teams that started the season outside the AP Top 10 but surprised nearly everyone and won it all. Last season, Florida State was my No. 1 surprise team in the preseason and became yet another non-preseason top-10 team to take home the crystal ball.
Each of the past five offseasons, I have come up with a projected top 10 of the preseason AP poll on my website. My expected 2014 preseason top 10 included Florida State, Alabama, Oregon, Auburn, Oklahoma, Ohio State, UCLA, Michigan State, Baylor and South Carolina. It is likely those teams will make up the top 10 this year, so I did not use any of them as my surprise teams. The following are 10 programs that, while not as highly ranked, have the potential to shock the nation in 2014.
---

Georgia was a much stronger team at the start of last season than the one that finished 8-5 with a loss to Nebraska in the Gator Bowl. The key to the downfall of their season was a huge amount of injuries at the skill positions on offense. This season's team caught a break from last season's misfortune, as quarterback Hutson Mason got in nearly three games of experience at the end of 2013. He will also be surrounded by my No. 2 set of running backs in the country, led by Todd Gurley, and my No. 10 set of receivers. The offensive line is a bit of a question but does have 54 career starts among its members.
Last season, they had just three returning starters on defense, and, as you would expect, the inexperienced unit allowed 29 points per game. This season they have eight returning starters, led by a linebacking corps that I rank No. 1 in the country. In 2013, they played Clemson and South Carolina in back-to-back weeks but have a bye between them this time. I really like new defensive coordinator Jeremy Pruitt's attitude on defense, and keep in mind he has coached on the past three national championship teams (Alabama 2011 and 2012, Florida State 2013) and could make it four in a row here.