Phil Steele Week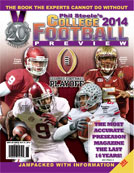 Get access to Phil Steele's football analysis and find his 2014 preview magazine at PhilSteele.com.
• Projecting Top 25 teams
• Preseason Top 5: FSU No. 1
• Top QBs | RBs
• Top 10 Heisman candidates
• Top 10 surprise teams for 2014
• Most improved teams for 2014
• Ranking every conference in CFB
Editor's note: This article was adapted from Phil Steele's college football preview magazine, which is available here.
Making my most improved list has generally been a blessing for teams, as they usually make big turnarounds. In 1999, the No. 1 most improved team in my preseason rankings was Hawaii, and they had the largest turnaround in NCAA history, going from a winless season in 1998 (0-12) to 9-4 and a bowl victory one year later.
More recently, Houston was my No. 1 most improved team in 2011 and had the largest turnaround in the country, going from 5-7 to 13-1 and just missing out on a BCS bowl. In 2012, my No. 1 most improved team was UC, and it went from five wins to 10 wins. My No. 2 most improved team that year was Ohio State, which had the largest jump in record for any team in the FBS that season, going from 6-7 to a perfect 12-0. Last year, both Auburn and Missouri made my most improved list and, despite combining for a total of eight wins in 2012, each team won 12 games last year and played each other in the SEC Championship game.
Overall in the past six years, I have listed 111 teams on my most improved teams list that did not have a winning season the previous year. Of those 111 teams, almost all improved their record the next year, but even more impressively, 76 of the 111 teams were bowl-eligible the following year.
Looking for some major turnaround teams this year that will surprise? Here is my much-anticipated, most-improved-teams list:
---

The Horned Frogs' two seasons in the Big 12 have been a little disappointing, as they are 11-14 overall and 6-12 in Big 12 play. They might have been a much stronger team last year if not for losing two linebackers in the offseason, as well as 2012 Big 12 Defensive Player of the Year Devonte Fields after one game because of injury. While this team was just 4-8 last year, seven of the Frogs' losses saw a chance for them to win in the fourth quarter or overtime.
This year, they have 16 returning starters, get Fields back, plus add in Texas A&M transfer QB Matt Joeckel. The addition of Joeckel might allow them to move Trevone Boykin to wide receiver or running back, where he is a threat to score every play. With my No. 5 defensive line, No. 15 linebackers and No. 20 defensive backs, they have my No. 11 overall defense. They do play both Baylor and Texas on the road but beat both of them on the road in 2012. If you are looking for a team that has could have a turnaround similar to what Auburn or Missouri had last year, the Horned Frogs are that team.
---

Just two years ago the Gators came within a Notre Dame loss to USC of actually getting to the BCS title game. Last year, however, was their worst season in over 30 years, as they finished just 4-8, failing to make a bowl for the first time since 1990. However, it was a year that saw them ravaged by injuries on both offense and defense, as they lost 51 starts to injury, the third-most of any team in the country.