Class of 2013 Team Basketball Recruiting Rankings
Sign Of The Times
Last Updated: 11/16/2012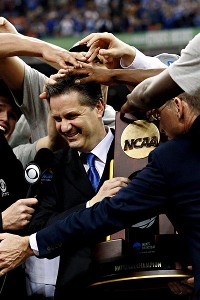 John Calipari (Ronald Martinez)
The early signing period is here and the cream -- and in one case, the Crean -- is starting to rise to the top of the 2013 recruiting class rankings.
To the surprise of nobody, Kentucky and coach John Calipari lead the way with a No. 1 class that features four ESPN 100 recruits, with three in the top 10. While talk of this being the best recruiting class ever might be premature at this point, one more big commitment could change things. But there's very little doubt the Wildcats are at the top of the heap for this year, continuing a trend that's seen them grab the top recruiting class in 2009, 2010 and 2011 and No. 2 in 2012.
But the other top 10 teams are just as intriguing. No. 3 Memphis -- Calipari's former team -- has proved it can recruit just fine with Josh Pastner at the helm. No. 2 Kansas, No. 5 North Carolina, No. 6 Florida, No. 7 Syracuse and No. 8 Louisville should come as no surprise given both the recent and historical success of those programs, and No. 9 NC State has put together back-to-back top 10 classes under Mark Gottfried. Meanwhile, Tom Crean certainly has the ship righted at Indiana, with a No. 1 team in 2012 and a No. 4 recruiting class for 2013. And the surprise of the bunch is LSU, which sits at No. 10 for Johnny Jones' first full recruiting class.
The 2013 recruiting race is hardly over -- more movement could happen if others commit during the early signing period. Plus there's still the spring signing period, when top-10 prospects like No. 1 Andrew Wiggins, No. 2 Jabari Parker and No. 4 Julius Randle are expected to sign. But with the early period set to begin, the class rankings picture is starting to come into focus.
• Check out Kentucky's top-ranked class here and all of the top 25 analysis by clicking each team logo on the left.